League of Legends Summoners Rifts newest map objective, the elemental dragon. Each Different Elemental dragon will award players with a unique buff. These Team buffs will range from more damage, to health & mana regeneration.
At random one type of elemental dragon will spawn, after that dragon has been slain. The mini map will indicate the next type that will spawn. Both teams will know which dragon will be spawning.
(Elemental Dragon Buffs Can Stack)
Water Dragon Attack | Auto attacks slow. Mainly relevant if it's a potentially contested dragon, since the slow will limit your ability to disengage quickly. Some optimizations around getting it to attack an enemy for the slow situationally.
Water Dragon Buff | Every 18/12/6 seconds this unit restores 10% of their missing Health and Mana, 15% if they have Mark of the Elder Dragon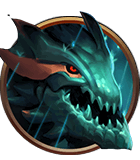 Fire Dragon Attack | AOE damage (just like current dragon). Impacts positioning when taking dragon primarily, some impact on pet users.
Fire Dragon Buff | This unit has 8/16/24% (based on stacks) increased Ability Power and Attack Damage, +50% if they have Mark of the Elder Dragon.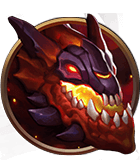 Earth Dragon Buff | This unit deals 10%/20%/30% additional damage as True Damage to Epic Monsters and Towers, +50% if you have Mark of the Elder Dragon
Earth Dragon Attack | Slow hard hitting auto attacks that also AOE. More health, armor and MR than other dragons. Slower to take, giving longer windows in which to contest it.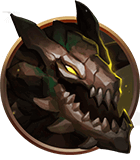 Air Dragon Buff | This unit has 15/30/45 (based on stacks) additional Out of Combat Movement Speed, +50% if they have Mark of the Elder Dragon.
Air Dragon Attack | Fast moving and fast auto attacking. Highest single target damage, chases better than other dragons."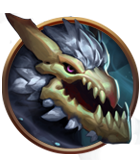 Elder Dragon
After 35 Minutes, The Elder Dragon will begin to spawn. The Elder Dragon is more strong then any other elemental dragon.
Killing the Elder Dragon will Grant a Powerful Burn-Over-Time.
While granting a increasingly stronger buff for each Elemental Stack your team already has.
"On dealing damage to non-turrets, this unit deals True Damage over 3 seconds equal to 45 + 45 per stack of Elemental Dragon Buff. This also empowers their current Dragon Marks, increasing their power."
Last 90 Seconds