El Leon Gnar Skin is ready to rumble with his epic el macho skin. You buy this skin for 750 RP, below are the skin perks.
⦁ Gnar is wearing a black mask over his face
⦁ He is wielding a crowbar type of weapon ready to throw it at your fricken face
⦁ his fur is bright yellow and orange, i really like his tail animation in game.
⦁ His Mega Gnar El Leon is a fierce lion with white and gold stripped clothing wrapped around his legs.
This is not a Legacy edition skin so you can buy this skin anytime.
In game pictures of El Leon Gnar Skin, both his in regular gnar form and mega. Very intimidating, i would want to get in the way of this lion. Well, unless i was a beefy spartan and picked Pantheon Counter. Although he may be strong if played correctly and if you use a few of your awesome taunt animations with this skin, you may end up finding yourself having a huge lead in lane. Not only is El Leon Gnar Skin a powerful lion when he goes Mega but he also has one of the highest win rates in the game.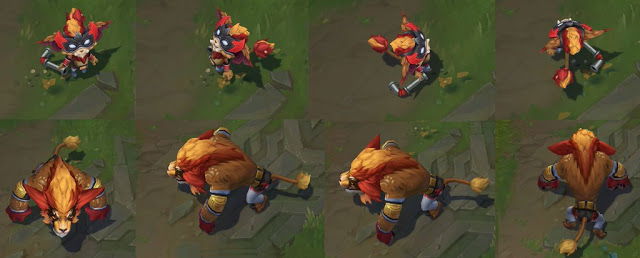 El Leon Gnar Skin has a new particles and boomerang animation along with a new design to his boulder toss. We also noticed that when you auto attack you'll have a sweet particle effect it has been buffed to look better than the original which helps justify your purchase :),  Just because he's mini doesn't mean he can't pack a punch. Err… i should say a boulder, El Leon Gnar Skin and boomerang toss feature to animations that look pleasantly good and will make you spam your cooldowns alot more often then normal just to view it. Luckily he doesn't have mana so this isn't a problem. However, keep in mind if you spam your Cooldowns you'll lose lane pressure and allow your opponent to get ahead of you and potentially out exchange you for free.
Check out our elo booster LoL Build and LoL Counter guides to learn how you can build and counter this champion like the pros.