This guide is a Tier List of the Best Monk Weapons To Use in Diablo Immortal; in total, we rank 16 Monk Weapons ranging from Normal, Magic, Rare, and Legendary Rarity. You can Click/Tap any icon to view our complete guide on Monk Weapons.
Diablo Immortal Best Monk Weapons Tier List
The Diablo Immortal Monk Weapons Tier List will be ranked from the Best being (S-Tier) to the Worst being (F-Tier). You will find Dragon's Indignation, Eye of the Storm, and Ice Upon the Blossom ranking among the best Monk Weapons to use in-game.

Ice Upon the Blossom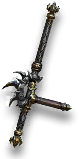 Fires of Peace

Best Armor Tier List