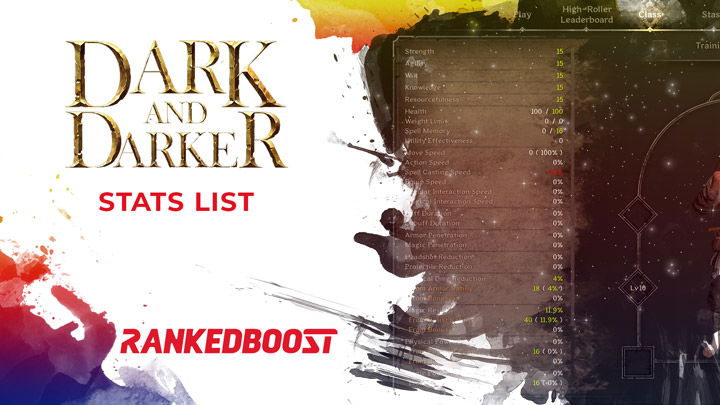 Dark and Darker Stats List
Here you can view a list of all the stats explained in dark and darker. This list will be updated as the game receives more balance patches.
Dark and Darker Best Stats To Use
We rank the best stats to use in dark and darker based on their value in the current meta. We also take into consideration how powerful stacking a certain stat can be, and many different classes can utilize that specific stat.
Dark and Darker Best Stats

| Tier | Stat | Desc |
| --- | --- | --- |
| S Tier | All Attributes | Increases all stats of your character. |
| S Tier | True Damage | Damage that bypasses all armor and physical damage reductions. |
| A Tier | Additional Magic Damage | Increases bonus magic damage your spells will do. |
| A Tier | Agility | Increases Base Move Speed, Action/Attack Speed, and Equip/Interaction Speed |
| A Tier | Knowledge | Increases spell casting speed + Spell Count + Item Identification Speed. |
| A Tier | Magical Power | Increase your overall spell power. |
| A Tier | Max Health | Increases your character's maxmium health. |
| A Tier | Physical Power | Increases your damage with physical weapons. |
| A Tier | Spell Capacity Bonus | Will determine how many or the level of the spells you can memorize and take into the game. |
| A Tier | Strength | Increases Base Health and Physical Damage Bonus |
| A Tier | Weapon Damage | Increases Weapon damage. |
| A Tier | Will | Increases Spell Power, Increases Buff/Curse Duration, and Increases your Magic Resistance. |
| B Tier | Buff Duration | Increases buff duration (Protection, Invisibility, Bless, etc) |
| B Tier | Magic Resistance | Reduces the amount of magical damage you recieve by another player (Magical Armor Rating) |
| B Tier | Magical Damage Reduction | Reduces the amount of magical damage you recieve by another player |
| B Tier | Magical Healing | Increase the magical healing amount you receive from a healing spell. |
| B Tier | Physical Damage Reduction | Reduces the amount of physical damage you recieve by another player. |
| C Tier | Action Speed | Increases how fast you interact with objects (looting ,chest, portals, corpses, etc). |
| C Tier | Resourcefulness | Increases how fast you interact with objects, and significanly increases how quickly you install items such as traps and campfires. |
| E Tier | Item Equip Speed | Increase how long it takes you equip items you put on your character. |