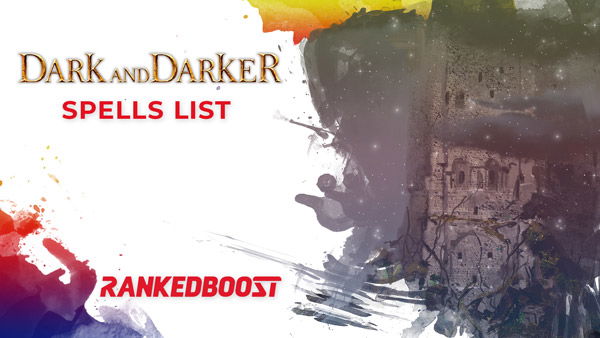 Dark and Darker Spells List
Here you can view a list of all the spells in dark and darker. This list will be updated as the game receives more balance patches.
Dark and Darker Best Spells To Use
We rank the best spells to use in dark and darker based on their class performance in the current meta. We also take into consideration how powerful they are overall, this is determine by cast time speed, damage, and cost to use.
Spells Tier List
Tier
Spell
Class
Cost
Cast
Desc

S Tier

Wizard

6
4
Electrocutes, dealing spell damage and fires lightning that is transferred to others within 400 meters and shocks up to 3 times. A target can only be transferred to once, and if you are nearby, you will be hurt.

Light

S Tier

Wizard

3
5
Fires up to 10 homing missiles that each deal 12 damage. Moving will interrupt the spell. (12 Damage Per)

Arcane

S Tier

Cleric

5
4
Heals an ally for 30 HP or does 100 base magic damage to undead.

Divine

S Tier

Wizard

4
5
Target becomes invisible and gains a 10% Move Speed bonus for 4 seconds. Casts to self if no valid target is found.

Arcane

S Tier

Cleric

4
4
Heals a target for 15 HP. Casts to self if no valid target.

Divine

A Tier

Wizard

4
5
Shoots a fireball that causes 30 direct damage and 20 splash damage and knockback effect to nearby targets.

Fire

A Tier

Cleric

1
5
Target gains +3 STR, AGI, WILL for 30 seconds. Casts on self if no valid target.

Divine

A Tier

Cleric

2
5
Increases weapon damage by 10 for 20 seconds.

Divine

A Tier

Wizard

3
6
Target gains a 14% Action and Move Speed bonus for 12 seconds. Casts to self if no valid target is found.

Light

A Tier

Cleric

1
5
Creates a shield that blocks 20 physical damage for 20 seconds

Divine

A Tier

Wizard

1
6
Deals magic damage and burns the target for 1 second.

Light

B Tier

Cleric

3
4
Binds/Roots the target for 0.75 seconds

Divine

B Tier

Wizard

2
5
Slows the target's movement speed by -40% for 2.5 seconds

Light

C Tier

Wizard

1
6
Set the target's weapon on fire, dealing 5 additional magic damage and burning enemies when they hit.

Fire

C Tier

Wizard

4
5
After 4 seconds, a bolt of lighting falls in the targeted area, dealing spell damage.

Light

C Tier

Cleric

8
1
Target an ally to resurrect them from the dead. The corpse must have a soul heart.

Divine

E Tier

Wizard

2
6
On hit, deals magic damage and reduces the target's movement speed by -15% for 1 second. 48 DMG to Head / 32 DMG to Body

Water

E Tier

Wizard

1
8
Create spheres of floating light to illuminate your surroundings

Light

E Tier

Cleric

2
5
Removes all harmful magic effects from target.

Divine