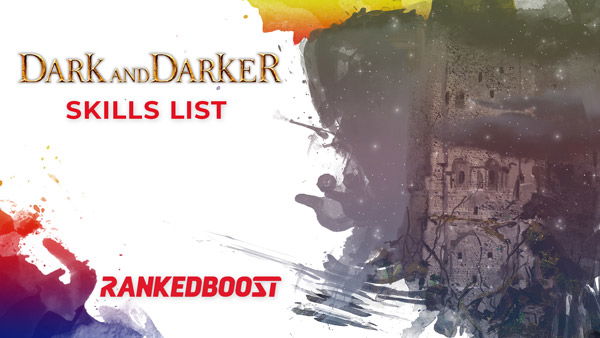 Dark and Darker Skills List
Here you can view a list of all the skills in dark and darker. This list will be updated as the game receives more balance patches.
Dark and Darker Best Skills To Use
We rank the best skills to use in dark and darker based on their performance in the current meta. We also take into consideration how powerful they are overall, for example invisibility is very strong because it can be used with great effectiveness in PVE, and PVP.
Skills Tier List
Tier
Skill
Class
Desc

S Tier

Fighter

Increases attack speed by 25% for 6s. Afterwards, attack and movement speed reduced for 6s.

S Tier

Wizard

Sit on the ground and revive spells at a rate of 40 spell costs over 10s.

S Tier

Ranger

Fire three arrows in rapid succession

S Tier

Ranger

Increases projectile flight speed.

S Tier

Rogue

Become invisible. Can change equipment while invisible. Any movement or skill usage will reveal you.

S Tier

Ranger

Increase action speed by 50% for 5 seconds (Bows only)

S Tier

Barbarian

Next hit ignores 75% enemy defense. Self -55 armor rating.

S Tier

Fighter

Recovers 50% of HP over 12s. Eliminates side effects of Adrenaline Rush.

S Tier

Wizard

Allows additional spells to be memorized

S Tier

Rogue

The next attack deal 50% additional weapon damage. Also reduces target's defense by 50% for 5s.

A Tier

Cleric

After focusing for 0.5s, deal 30 damage to a target and reduce their movement speed by 20% for 2s. Can only be cast when targeting an enemy within 4.5m. If target gets out of range, casting fails.

A Tier

Ranger

When attacking with a bow-type weapon, fire 5 arrows at the same time (spread).

A Tier

Rogue

Drop a smoke grenade at your feet that lasts for 20s and covers and area of 7.5m. Reduces enemy move speed by 15%

A Tier

Ranger

Instantly recover 25 HP.

A Tier

Wizard

Reduce casting time of next spell to 0.1s.

A Tier

Barbarian

STR greatly increased and movement speed increased by 15%. Defense reduced by -20% for short duration.

A Tier

Rogue

The next attack causes target to bleed for 20 dmg over 5s. (18s cooldown)

A Tier

Cleric

For 7s, deal additional +10 damage to all enemies you hit.

A Tier

Wizard

Memorize spells so you can cast magic.

A Tier

Fighter

Movement speed greatly increased for a short duration. Move speed is now increased by 50%.

A Tier

Fighter

Increases aggro value to all monsters within a 7.5m area by 50% and increases defense bonus by 10% for 7s.

A Tier

Fighter

The next attack deals additional 20% weapon damage. If you kill with this attack, recover 5% of max HP.

A Tier

Barbarian

Increase Max HP of yourself and your party by 25% for 7s.

B Tier

Cleric

Inflicts 100 base damage to all undead within 7.5m.

B Tier

Barbarian

Frightens NPCs within a 7.5m range for 6s. Reduces their damage bonuses by -25% (28s Cooldown)

B Tier

Fighter

Removes debuffs that slow all movement speeds.