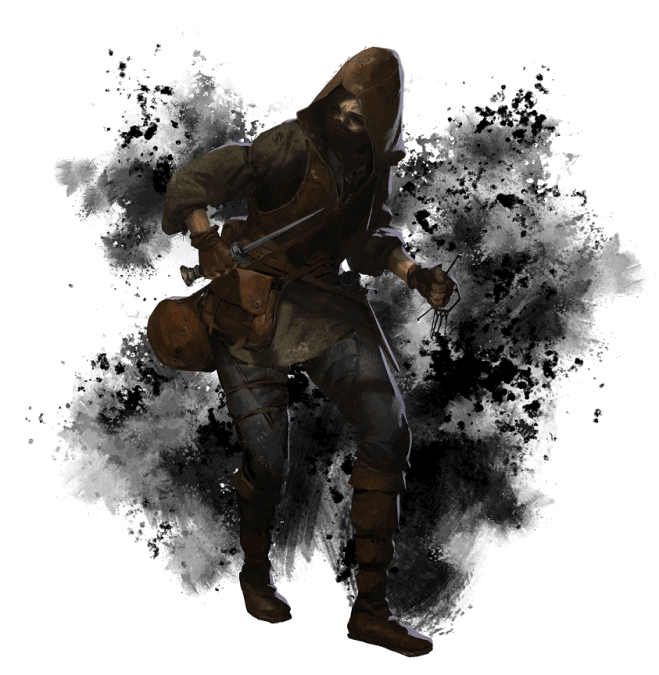 Dark and Darker Rogue
The Dark and Darker Rogue is a S Tier Class. The strengths of playing Rogue are High movement speed, Quick Attack Speed, Quickly interact with objects, can pick locks without a lock pick, can detect & disable traps, moves more silently. However, the Rogue class also suffers from Low health, Low damage bonus, low magic resistance.
The Rogue is a master of deception able to silently slip between the shadows to work his dastardly deeds. His dexterous hands enable him to quickly loot riches, pick locks and disable various traps.
Best Rogue Builds To Use
Rogue Builds
Tier
Build
Perks
Skills
Spells

S Tier

Stab Stab Stab

Weapons:

Dual Wield (Rapier/ Dagger)

Ambush

Dagger Expert

Poisoned Weapon

Stealth

Weakpoint Attack

Hide

A Tier

Bleed Build

Weapons:

Dual Wield (Rapier/ Dagger)

Ambush

Dagger Expert

Poisoned Weapon

Stealth

Rupture

Hide

Best Builds Tier List

Best Team Comps To Use
Best Rogue Skills To Use
Rank
Skill
Desc

S Tier

Hide
Become invisible. Can change equipment while invisible. Any movement or skill usage will reveal you.

Mobility Buff

S Tier

Weakpoint Attack
The next attack deal 50% additional weapon damage. Also reduces target's defense by 50% for 5s.

+% Physical Damage

Armor Pen

A Tier

Rupture
The next attack causes target to bleed for 20 dmg over 5s. (18s cooldown)

Damage Over Time

A Tier

Smoke Bomb
Drop a smoke grenade at your feet that lasts for 20s and covers and area of 7.5m. Reduces enemy move speed by 15%

Area of Effect

Slow

Skills List
Best Rogue Perks To Use
Rank
Perk
Desc

S Tier

Ambush
First attack within 3s after stealthing deals 50% additional damage.

+% Physical Damage

A Tier

Backstab
Increases damage by 30% when attacking from behind the target.

+% Physical Damage

A Tier

Poisoned Weapon
A successful attack applies poison that deals 4 Magic damage over 4 seconds Poison can stack up to 5 times at once

Damage Over Time

+ Magic Damage

A Tier

Stealth
If you are hiding, you can move 10 steps while crouching or walking

Mobility Buff

B Tier

Dagger Expert
Daggers deal 5% additional damage.

+% Physical Damage

C Tier

Creep
Footstep sounds reduced when walking (Shift) or crouching (Control).

Mobility Buff

C Tier

Pickpocket
You can steal an enemy's item from the dungeon

E Tier

Hidden Pockets
Bright items such as potions and Heart Core's do not appear on your waist.

Vision Buff

E Tier

Trap Detection
Highlights nearby traps. Can be disarmed.

Vision Buff

Perks List
Best Rogue Stats To Use
| Rank | Stat | Desc |
| --- | --- | --- |
| S Tier | All Attributes | Increases all stats of your character. |
| S Tier | True Damage | Damage that bypasses all armor and physical damage reductions. |
| A Tier | Agility | Increases Base Move Speed, Action/Attack Speed, and Equip/Interaction Speed |
| A Tier | Max Health | Increases your character's maxmium health. |
| A Tier | Physical Power | Increases your damage with physical weapons. |
| A Tier | Strength | Increases Base Health and Physical Damage Bonus |
| A Tier | Weapon Damage | Increases Weapon damage. |
| B Tier | Magic Resistance | Reduces the amount of magical damage you recieve by another player (Magical Armor Rating) |
| B Tier | Magical Damage Reduction | Reduces the amount of magical damage you recieve by another player |
| B Tier | Physical Damage Reduction | Reduces the amount of physical damage you recieve by another player. |
| C Tier | Action Speed | Increases how fast you interact with objects (looting ,chest, portals, corpses, etc). |
| C Tier | Resourcefulness | Increases how fast you interact with objects, and significanly increases how quickly you install items such as traps and campfires. |
| E Tier | Item Equip Speed | Increase how long it takes you equip items you put on your character. |

Map Guides

Stats Explained
Best Rogue Weapons To Use
Dark and Darker Best Rogue Weapons
Tier
Weapon
Type
Flat Damage
Weapon Combo/Speed/Damage
Move Speed

? Tier

Castillon Dagger

Dagger

Rogue, Fighter

16
-10

? Tier

Kris Dagger

Dagger

Rogue

14
-10

? Tier

Rapier

Sword

Ranger, Rogue

13
-17

? Tier

Rondel Dagger

Dagger

Wizard, Rogue

14
-10

? Tier

Stiletto Dagger

Dagger

Rogue

15
-10
Best Rogue Armor To Use
Dark and Darker Best Rogue Armor
Tier
Armor
Type
Armor Rating
Move Speed
Default Stats

? Tier

Doublet

Chest

Rogue, Ranger, Fighter

17
-8

? Tier

Marauder Outfit

Chest

Rogue

28
-10
1 Agility

? Tier

Rogue Cowl

Head

Rogue

16 ~ 17
-5
4.0% Headshot Reduction