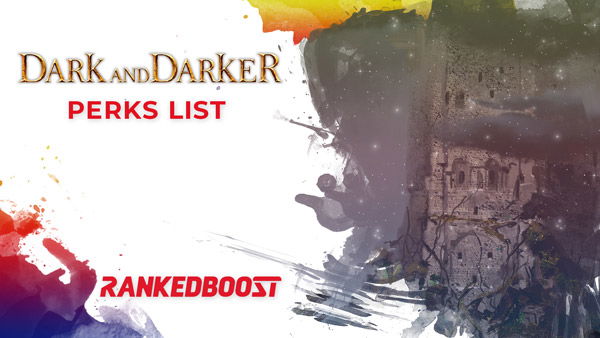 Dark and Darker Perks List
Here you can view a list of all the perks in dark and darker. This list will be updated as the game receives more balance patches.
Dark and Darker Best Spells To Use
We rank the best perks to use in dark and darker based on their performance in the current meta. We also take into consideration how much value they are provide in-game. This is mostly determine by the class the perk resides on and what makes them strong.
Perks Tier List
Tier
Perk
Class
Desc

S Tier

Fighter

Equipping weapons in both hands increases attack speed by 7%.

S Tier

Ranger

When using a bow, your default shooting animation is 15% faster.

S Tier

Rogue

First attack within 3s after stealthing deals 50% additional damage.

S Tier

Barbarian

Adds +10 damage to axe attacks.

S Tier

Wizard

Increase spell casting speed by 20%.

S Tier

Wizard

Increases knowledge by 10%

A Tier

Fighter

Reduces damage taken from projectiles by 10%

A Tier

Wizard

Create an arcane shield that lasts for 3s. Can absorb 10 total damage. Cooldown (N/A)

A Tier

Cleric

Increase base heal by 5.

A Tier

Wizard

Dealing arcane spell damage increases your cast speed and base magic damage by 1% per stack. Max of 5 stacks. Bonus duration lasts for 7s and resets with each successful attack.

A Tier

Wizard

Increases magic damage of arcane spells by 5% and reduces cast time of arcane spells by 1s.

A Tier

Rogue

Increases damage by 30% when attacking from behind the target.

A Tier

Barbarian

STR increases by +10 for 4s after killing a target.

A Tier

Fighter

Physical attack power temporarily increases by 10% with each successful melee attack within 3s.

A Tier

Barbarian

Increases magic resistance by 100

A Tier

Cleric

Self heal for 15% when healing another.

A Tier

Ranger

When moving with the bowstring drawn, movement speed increases by 10%

A Tier

Wizard

Fire damage reduces target's physical reduction bonus by -10% for 5s.

A Tier

Rogue

A successful attack applies poison that deals 4 Magic damage over 4 seconds Poison can stack up to 5 times at once

A Tier

Barbarian

Not wearing chest armor results in 10% damage bonus.

A Tier

Ranger

This will allow a Ranger to equip a Spear/Polearm and gain 10 physical strength when attacking with the Spear.

A Tier

Rogue

If you are hiding, you can move 10 steps while crouching or walking

B Tier

Cleric

Reduces all types of incoming damage by 3.

B Tier

Barbarian

The less HP you have the more damage you do. Each 10% HP loss grants 2% additional attack power up to a max of 18% physical power

B Tier

Cleric

Increases attack power by 5% when attacking with a blunt weapon.

B Tier

Fighter

Successful defense increases movement speed and attack speed by 10% for 3s.

B Tier

Rogue

Daggers deal 5% additional damage.

B Tier

Fighter

Increases Armor Rating acquired from armor by 10%

B Tier

Wizard

Increases magic damage of fire spells by 5% and increases burn status by 2.5s.

B Tier

Wizard

Increases magic damage bonus by 5%.

B Tier

Barbarian

Recover 10% HP after killing a player

B Tier

Ranger

Increases physical attack power by 5% when using a ranged weapon.

B Tier

Ranger

Headshots deal 15% more damage when using a ranged weapon.

B Tier

Fighter

Reduces base movement speed penalty from equipped armor by -20%.

B Tier

Barbarian

Additional 10% HP

B Tier

Barbarian

Two handed weapons deal additional 5% damage.

B Tier

Fighter

All Primary and Secondary weapons can be used. A -10% physical damage penalty is applied for all non-native weapons.

C Tier

Ranger

Can hear enemy footsteps from further away.

C Tier

Barbarian

Can destroy normal doors and sturdy containers. Increases impact power of attacks +1 to better defeat blocks/parries.

C Tier

Ranger

Enemies footprints appear red on the ground as you trace their footsteps. (Footprints last 40s)

C Tier

Cleric

Increase damage bonus by 20% when attacking undead.

C Tier

Fighter

When in defensive stance, defense rating bonus increased by 5%.

C Tier

Cleric

You don't see drunk visual effects.

C Tier

Rogue

Footstep sounds reduced when walking (Shift) or crouching (Control).

C Tier

Ranger

Increases crossbow reload speed by 50% and increases movement speed by 50% while reloading the crossbow.

C Tier

Wizard

Increases Armor Rating by 20 and inflicts Frostbite on melee attack targets for 0.5 seconds.

C Tier

Rogue

You can steal an enemy's item from the dungeon

C Tier

Cleric

Reviving an ally revives them with 25% HP, instead of 1% HP from the alter.

C Tier

Fighter

Increases movement speed by 5% when in a defensive stance.

E Tier

Rogue

Bright items such as potions and Heart Core's do not appear on your waist.

E Tier

Rogue

Highlights nearby traps. Can be disarmed.

E Tier

Cleric

Duration of harmful DoTs reduced by -20%.

E Tier

Ranger

Set traps quicker than other classes