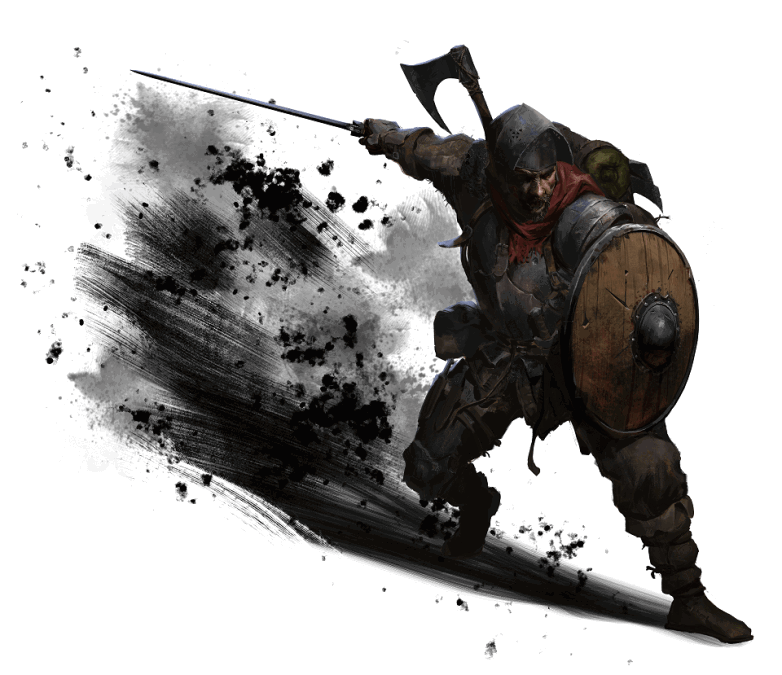 Dark and Darker Fighter
The Dark and Darker Fighter is a B Tier Class. The strengths of playing Fighter are Can equip most weapons and armor, Well-rounded attributes, has the ability to sprint. However, the Fighter class also suffers from Dependent on equipment, cannot cast any spells.
The Fighter is a jack of all trades when it comes to combat. Well-versed with a multitude of weapons, and armaments, the Fighter can hold his own against anyone.
Fighter Stats
| Rank | Stat | Value |
| --- | --- | --- |
| C | Health | 100 |
| C | Strength | 15 |
| F | Agility | 15 |
| F | Will | 15 |
| S | Knowledge | 15 |
| S | Resourcefulness | 15 |
| S | Spell Memory | 16 |
Fighter Advanced Stats
| Stat | Stat | Value |
| --- | --- | --- |
| S | Movement Speed | 315 |
| S | Action Speed | 5% |
| A | Spell Casting Speed | -50% |
| A | Equip Speed | 25% |
| S | Regular Interaction Speed | 56% |
| D | Magical Interaction Speed | -25% |
| C | Buff Duration | -5% |
| B | Debuff Duration | 12.4% |
| F | Physical Damage Reduction | 0 |
| F | Magic Resist | 15 |
| E | Physical Power | 10 |
| E | Magic Power | 10 |
Fighter Guide
| Fighter | Detail |
| --- | --- |
| Strong Against | Wizard |
| Tip #1 | Make use of the fighters ability to wield ranged weapons, such as bows. These will greatly help with versing strong monsters and ranged classes such as a Wizard or Ranger. |
| Tip #2 | Utilize your shield not only to block melee strikes but also to block projectiles like arrows and spells. |
Best Fighter Builds To Use
Fighter Builds
Tier
Build
Skills
Perks
Spells

A Tier

Run Down DPS

Falchion

Hatchet

Stat Priority:

B Tier

PVE Tank Build

Falchion

Heater Shield

Stat Priority:

Best Builds Tier List

Best Team Comps To Use
Best Fighter Skills To Use
Rank
Skill
Cooldown
Desc

S Tier

Adrenaline Rush
-
Increases attack speed by 25% for 6s. Afterwards, attack and movement speed reduced for 6s. (Single-use, rechargeable with campfires)

+% Attack Speed

S Tier

Second Wind
-
Recovers 50% of HP over 12s. Eliminates side effects of Adrenaline Rush. (Single-use, rechargeable with campfires)

Heal

A Tier

Sprint
28s
Movement speed greatly increased for a short duration. Move speed is now increased by 50%.

+% Move Speed

A Tier

Taunt
18s
Increases aggro value to all monsters within a 7.5m area by 50% and increases defense bonus by 10% for 7s.

+% Physical Damage Reduction

Area of Effect

A Tier

Victory Strike
24s
The next attack deals additional 20% weapon damage. If you kill with this attack, recover 5% of max HP.

Heal

+% Physical Damage

B Tier

Breakthrough
28s
Removes debuffs that slow all movement speeds.

Cleanse

Skills List
Best Fighter Perks To Use
Rank
Perk
Desc

S Tier

Dual Wield
Equipping weapons in both hands increases attack speed by 7%.

+% Attack Speed

A Tier

Combo Attack
Physical attack power temporarily increases by 10% with each successful melee attack within 3s.

+% Physical Damage

A Tier

Projectile Resistance
Reduces damage taken from projectiles by 10%

+% Ranged Physical Damage Reduction

B Tier

Counterattack
Successful defense increases movement speed and attack speed by 10% for 3s.

+% Attack Speed

Move Speed

B Tier

Defense Expert
Increases Armor Rating acquired from armor by 10%

+% Physical Damage Reduction

B Tier

Swift
Reduces base movement speed penalty from equipped armor by -20%.

Mobility Buff

+% Move Speed

B Tier

Weapon Mastery
All Primary and Secondary weapons can be used. A -10% physical damage penalty is applied for all non-native weapons.

C Tier

Barricade
When in defensive stance, defense rating bonus increased by 5%.

+% Physical Damage Reduction

C Tier

Shield Expert
Increases movement speed by 5% when in a defensive stance.

+% Move Speed

Perks List
Best Fighter Stats To Use
| Rank | Stat | Desc |
| --- | --- | --- |
| S Tier | All Attributes | Increases all stats of your character. |
| S Tier | True Damage | Damage that bypasses all armor and physical damage reductions. |
| A Tier | Agility | Increases Base Move Speed, Action/Attack Speed, and Equip/Interaction Speed |
| A Tier | Max Health | Increases your character's maxmium health. |
| A Tier | Physical Power | Increases your damage with physical weapons. |
| A Tier | Strength | Increases Base Health and Physical Damage Bonus |
| A Tier | Weapon Damage | Increases Weapon damage. |
| B Tier | Magic Resistance | Reduces the amount of magical damage you recieve by another player (Magical Armor Rating) |
| B Tier | Magical Damage Reduction | Reduces the amount of magical damage you recieve by another player |
| B Tier | Physical Damage Reduction | Reduces the amount of physical damage you recieve by another player. |
| C Tier | Action Speed | Increases how fast you interact with objects (looting ,chest, portals, corpses, etc). |
| C Tier | Resourcefulness | Increases how fast you interact with objects, and significanly increases how quickly you install items such as traps and campfires. |
| E Tier | Item Equip Speed | Increase how long it takes you equip items you put on your character. |

Map Guides

Stats Explained
Best Fighter Weapons To Use
Dark and Darker Best Fighter Weapons
Tier
Weapon
Type
Flat Damage
Combo/Speed/Damage
Move Speed
Action Speed

S Tier

Flanged Mace

1-Handed Main-Hand Mace

Cleric

Fighter

26

30 ~ 31

32 ~ 35

35 ~ 38

38 ~ 42

42 ~ 46

46 ~ 49

49 ~ 51

-25

Attack: -30%

S Tier

Heater Shield

1-Handed Off-Hand Shield

Cleric

Fighter

15

23

30

31 ~ 34

35 ~ 38

38 ~ 41

42 ~ 45

46 ~ 49

-15

Blockreaction: -3%

Guard: -35%

A Tier

Arming Sword

1-Handed Main-Hand Sword

Fighter

Ranger

22

25 ~ 26

27 ~ 29

29 ~ 31

31 ~ 34

34 ~ 37

37 ~ 40

40 ~ 42

-20

Attack: -25%

A Tier

Castillon Dagger

1-Handed Off-Hand Dagger

Fighter

Rogue

16

19 ~ 20

21 ~ 23

23 ~ 25

25 ~ 28

28 ~ 31

31 ~ 34

34 ~ 36

-10

Attack: -10%

A Tier

Hatchet

1-Handed Off-Hand Axe

Barbarian

Fighter

15

18 ~ 19

20 ~ 22

22 ~ 24

24 ~ 27

27 ~ 30

30 ~ 33

33 ~ 35

-25

Attack: -25%

A Tier

Horsemans Axe

1-Handed Main-Hand Axe

Barbarian

Fighter

19

22 ~ 23

24 ~ 26

26 ~ 28

28 ~ 31

31 ~ 34

34 ~ 37

37 ~ 39

-30

Attack: -25%

A Tier

Round Shield

1-Handed Off-Hand Shield

Cleric

Fighter

13

19

26

26 ~ 29

29 ~ 32

32 ~ 35

35 ~ 38

38 ~ 41

-12

Blockreaction: -3%

Guard: -25%

A Tier

Spear

2-Handed Polearm

Fighter

29

33 ~ 34

35 ~ 38

38 ~ 41

41 ~ 45

45 ~ 49

49 ~ 52

52 ~ 54

-40

Attack: -35%

Blockreaction: -35%

Defensemode: -35%

B Tier

Battle Axe

2-Handed Axe

Barbarian

Fighter

35

39 ~ 41

42 ~ 46

46 ~ 50

50 ~ 55

55 ~ 60

60 ~ 64

64 ~ 67

-45

Attack: -40%

B Tier

Buckler

1-Handed Off-Hand Shield

Cleric

Fighter

6

9

12

13 ~ 14

14 ~ 15

16 ~ 17

18 ~ 19

20 ~ 21

-7

Blockreaction: -1%

Guard: -10%

B Tier

Crossbow

2-Handed Crossbow

Fighter

Ranger

Wizard

39

43 ~ 45

46 ~ 50

50 ~ 54

54 ~ 59

59 ~ 64

64 ~ 68

68 ~ 71

-50

Attack: -50%

Reload: -70%

B Tier

Falchion

1-Handed Main-Hand Sword

Fighter

30

34 ~ 35

36 ~ 39

39 ~ 42

42 ~ 46

46 ~ 50

50 ~ 53

53 ~ 55

-25

Attack: -30%

B Tier

Longsword

2-Handed Sword

Fighter

29

33 ~ 34

35 ~ 38

38 ~ 41

41 ~ 45

45 ~ 49

49 ~ 52

52 ~ 54

-40

Attack: -35%

Blockreaction: -3%

Riposte: -35%

Riposteattack: -35%

B Tier

Zweihander

2-Handed Sword

Barbarian

Fighter

33

37 ~ 39

40 ~ 44

44 ~ 48

48 ~ 53

53 ~ 58

58 ~ 62

62 ~ 65

-50

Attack: -40%

C Tier

Pavise

2-Handed Shield

Fighter

Ranger

24

36

48

49 ~ 54

55 ~ 60

61 ~ 66

67 ~ 72

73 ~ 79

-65

Blockreaction: -3%

Guard: -45%

E Tier

Halberd

2-Handed Polearm

Fighter

37

41 ~ 43

44 ~ 48

48 ~ 52

52 ~ 57

57 ~ 62

62 ~ 66

66 ~ 69

-50

Attack: -45%

? Tier

Francisca Axe

Throwable

Barbarian

Fighter
Best Fighter Armor To Use
Dark and Darker Best Fighter Armor
Tier
Armor
Type
Armor Rating
Move Speed
Default Stats

? Tier

Armet

Head

Fighter

24

25 ~ 27

28 ~ 31

32 ~ 34

34 ~ 36

36 ~ 38

38 ~ 40

40 ~ 43

-12

14.0% Headshot Reduction

-5 Magic Resistance

? Tier

Barbuta Helm

Head

Barbarian, Fighter

19

20 ~ 21

22 ~ 23

24 ~ 25

26 ~ 27

28 ~ 30

30 ~ 31

31 ~ 32

-10

12.0% Headshot Reduction

10 Magic Resistance

? Tier

Chapel De Fer

Head

Fighter, Cleric

15

16 ~ 17

18 ~ 19

20 ~ 21

22 ~ 23

24 ~ 25

25 ~ 26

26 ~ 27

-8

10.0% Headshot Reduction

2% Projectile Reduction

10 Magic Resistance

? Tier

Cobalt Chapel De Fer

Head

Fighter, Cleric

22 ~ 23

-8

10.0% Headshot Reduction

2% Projectile Reduction

10 Magic Resistance

? Tier

Cobalt Heavy Gauntlet

Hand

Fighter, Cleric

19 ~ 20

-3

4% Projectile Reduction

-5 Magic Resistance

? Tier

Cobalt Plate Boots

Feet

Fighter, Cleric

24 ~ 25

2

5% Projectile Reduction

-5 Magic Resistance

1 Strength

? Tier

Cobalt Plate Pants

Leg

Fighter, Cleric

36 ~ 38

-18

9% Projectile Reduction

-5 Magic Resistance

? Tier

Cobalt Templar Armor

Chest

Fighter, Cleric

67 ~ 74

-20

20 Magic Resistance

? Tier

Dark Plate Armor

Chest

Fighter

47

48 ~ 51

52 ~ 61

62 ~ 68

69 ~ 76

76 ~ 82

82 ~ 88

88 ~ 92

-30

12.0% Projectile Reduction

40 Magic Resistance

? Tier

Doublet

Chest

Fighter, Ranger, Rogue

17

18 ~ 19

20 ~ 21

22 ~ 23

24 ~ 25

26 ~ 28

28 ~ 29

29 ~ 30

-8

? Tier

Fine Cuirass

Chest

Fighter

60

61 ~ 64

65 ~ 76

77 ~ 88

89 ~ 97

97 ~ 105

105 ~ 110

110 ~ 115

-35

10.0% Projectile Reduction

-10 Magic Resistance

? Tier

Heavy Gauntlet

Hand

Cleric, Fighter

12

13 ~ 14

15 ~ 16

17 ~ 18

19 ~ 20

21 ~ 22

22 ~ 23

23 ~ 24

-3

-5 Magic Resistance

? Tier

Kettle Hat

Head

Cleric, Fighter

15

16 ~ 17

18 ~ 19

20 ~ 21

22 ~ 23

24 ~ 25

25 ~ 26

26 ~ 27

-8

10.0% Headshot Reduction

2% Projectile Reduction

10 Magic Resistance

? Tier

Plate Boots

Feet

Cleric, Fighter

13

14 ~ 15

16 ~ 17

18 ~ 19

20 ~ 21

22 ~ 23

23 ~ 24

24 ~ 25

2

-5 Magic Resistance

? Tier

Plate Pants

Leg

Cleric, Fighter

26

27 ~ 29

30 ~ 33

34 ~ 36

36 ~ 38

38 ~ 40

40 ~ 42

42 ~ 45

-18

-5 Magic Resistance

? Tier

Ruby Silver Barbuta Helm

Head

Barbarian, Fighter

28 ~ 30

-10

12.0% Headshot Reduction

10 Magic Resistance

? Tier

Ruby Silver Doublet

Chest

Fighter, Ranger, Rogue

26 ~ 28

-8

? Tier

Ruby Silver Fine Cuirass

Chest

Cleric, Fighter

97 ~ 105

-35

10.0% Projectile Reduction

-10 Magic Resistance

? Tier

Ruby Silver Heavy Gauntlet

Hand

Cleric, Fighter

21 ~ 22

-3 Move Speed

-5 Magic Resistance

? Tier

Ruby Silver Plate Boots

Feet

Cleric, Fighter

22 ~ 23

2

-5 Magic Resistance

? Tier

Ruby Silver Plate Pants

Leg

Cleric, Fighter

38 ~ 40

-18

-5 Magic Resistance

? Tier

Templar Armor

Chest

Cleric, Fighter

45

46 ~ 49

50 ~ 59

60 ~ 66

67 ~ 74

74 ~ 80

80 ~ 86

86 ~ 90

-15

20 Magic Resistance

? Tier

Visored Barbuta Helm

Head

Fighter

19

20 ~ 21

22 ~ 23

24 ~ 25

26 ~ 27

28 ~ 30

30 ~ 31

31 ~ 32

-10

13.0% Headshot Reduction

6% Projectile Reduction