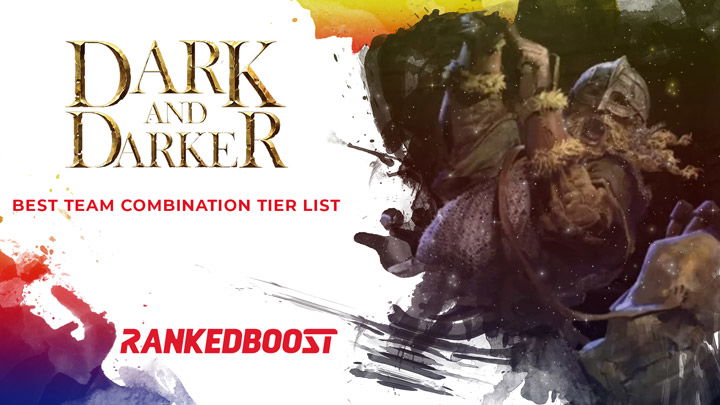 Dark and Darker Best Team Comps Tier List
Here you can view the best team compositions to use in dark and darker. This team comp tier list will be updated as the game receives more balance patches.
Best Team Comps to use in Dark and Darker
Depending on how many players you are playing with, you can put together a very strong combination of classes. They idea to pick classes who either do really good together creating a type of synergy. Your class quality of life can benefit from the other classes, for example Ranger class can get a free campfire every run which we recharge/restore Cleric & Wizard Spell Casts.
The Perks, Skills, Spells, that we have included with the team comp are must have to make the most of the classes combine synergy. Anything else can be the player's play-style preference.
Dark and Darker Best Team Compositions
Tier
Team Composition
Perks
Skills
Spells

S Tier

1 Man Carry

Berserker

(Barbarian)

Axe Specialization

(Barbarian)

Combo Attack

(Fighter)

Dual Wield

(Fighter)

Rage

(Barbarian)

Reckless Attack

(Barbarian)

Sprint

(Fighter)

Adrenaline Rush

(Fighter)

Protection

(Cleric)

Bless

(Cleric)

Haste

(Wizard)

Invisibility

(Wizard)

S Tier

Balanced

Toughness

(Barbarian)

Berserker

(Barbarian)

Kindness

(Cleric)

Savage Roar

(Barbarian)

War Cry

(Barbarian)

Adrenaline Rush

(Fighter)

Taunt

(Fighter)

Breakthrough

(Fighter)

Protection

(Cleric)

Lesser Heal

(Cleric)

Holy Light

(Cleric)

Magic Missile

(Wizard)

Haste

(Wizard)

Invisibility

(Wizard)

Fireball

(Wizard)

S Tier

Class Cannon

Perseverance

(Cleric)

Reactive Shield

(Wizard)

Protection

(Cleric)

Lesser Heal

(Cleric)

Holy Light

(Cleric)

Magic Missile

(Wizard)

Invisibility

(Wizard)

Fireball

(Wizard)

A Tier

Aggro Burst

Ambush

(Rogue)

Quick Fire

(Ranger)

Quick Shot

(Ranger)

Weakpoint Attack

(Rogue)

Hide

(Rogue)

Magic Missile

(Wizard)

Haste

(Wizard)

Invisibility

(Wizard)

Fireball

(Wizard)

B Tier

Bait and Trap

Trap Expert

(Ranger)

Ambush

(Rogue)

Backstab

(Rogue)

Smoke Bomb

(Rogue)

Rupture

(Rogue)

Hide

(Rogue)

Caltrops

(Rogue)

B Tier

Hide and Seek

Ambush

(Rogue)

Poisoned Weapon

(Rogue)

Stealth

(Rogue)

Weakpoint Attack

(Rogue)

Rupture

(Rogue)

Hide

(Rogue)

C Tier

Tank

Toughness

(Barbarian)

Iron Will

(Barbarian)

Kindness

(Cleric)

Perseverance

(Cleric)

Defense Expert

(Fighter)

War Cry

(Barbarian)

Second Wind

(Fighter)

Protection

(Cleric)

Bless

(Cleric)

Lesser Heal

(Cleric)

Holy Light

(Cleric)