Welcome to our Cyberpunk 2077 Best Vehicles List, here we list all the Sports, Motorcycle, Heavy Duty, Executive and more other types of car. We explain how to get each car in Cyberpunk 2077, such as their locations and cost to purchase.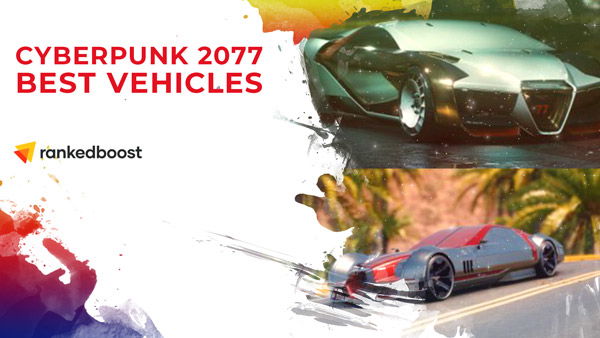 Are you looking for a NEW build? Then visit our Cyberpunk 2077 Best Builds for a wide variety of options to choose from.
Cyberpunk 2077 Best Vehicles
When it comes to Vehicles, you have many choices; however, you will need to unlock and purchase a vehicle if you want to store it within your garage. Stealing a car allows you to drive around with it, but you cannot keep it in the garage for later use. Two things that affect how a vehicle performs are Horse Power and the second would be Drive Train.
List of Best Vehicles in Cyberpunk 2077.
| Name | Cost | Horse Power | Drive Train | Location |
| --- | --- | --- | --- | --- |
| AERONDIGHT GUINEVERE | 225,000 | 950 | RWD | Can be purchased from fixer, requires street cred level of 50, location within North Oaks |
| CALIBURN | 157,000 | 1,660 | AWD | Can be purchased from fixer, requires street cred level of 40, location within Downtown or Complete 'Hidden Gem' in the Badlands. |
| NAZARE | 138,000 | 170 | RWD | Can be purchased from fixer, requires street cred level of 40, location within Westbrook or Rewarded from completing the 'The Highwayman' Mission or Rewarded from completing the 'Heroes' Mission (This version can be modded if you were able to give advice to Jackie, which requires Technical Ability.) |
| TURBO-R 740 | 129,000 | 480 | RWD | Can be purchased from fixer, requires street cred level of 30, location within Charter Hill. |
| MACKINAW MTL1 | 128,000 | 420 | RWD | Can be purchased from fixer, requires street cred level of 30, location within Santo Domingo. |
| SHION COYOTE | 115,000 | 570 | AWD | Can be purchased from fixer, requires street cred level of 20, location within Badlands or Rewarded from completing 'Queen of the Highway' Mission. |
| TYPE-66 CTHULHU | 76,000 | 666 | RWD | Reward if you decide to spare Sampson during the 'The Beast in Me' Mission. If Sampson dies, you can instead purchase the vehicle in Watson. |
| SHION MZ2 | 75,000 | 482 | RWD | Can be purchased from fixer, requires street cred level of 30, location within Little China. |
| TYPE-66 JAVELINA | 73,000 | 1,000 | AWD | Can be purchased from fixer, requires street cred level of 30, location within Badlands. |
| ALVARADO V4F 570 DELEGATE | 62,000 | 407 | RWD | Can be purchased from fixer, requires street cred level of 20, location within Heywood or Rewarded from defeating Cesar during 'Beat on the Brat' Mission. |
| OUTLAW GTS | 62,000 | 755 | AWD | Can be purchased from fixer, requires street cred level of 30, location within Corpo Plaza. |
| TYPE-66 JEN ROWLEY | 58,000 | 666 | RWD | Can be purchased from fixer, requires street cred level of 20, location within Santo Domingo. |
| TYPE-66 AVENGER | 55,000 | 777 | RWD | Can be purchased from fixer, requires street cred level of 20, location within City Center. |
| COLBY LITTLE MULE | 49,000 | 369 | AWD | Can be purchased from fixer, requires street cred level of 12, location within Badlands. |
| COLBY CX410 BUTTE | 43,000 | 235 | AWD | Can be purchased from fixer, requires street cred level of 13, location within Santo Domingo or Complete the 'Hidden Gem' in Badlands. |
| COLBY C125 | 39,000 | 182 | FWD | Can be purchased from fixer, requires street cred level of 20, location within Watson. |
| CORTES V5000 VALOR | 37,000 | 333 | RWD | Can be purchased from fixer, requires street cred level of 12, location within Heywood or Rewarded from the 'Don't Lose Your Mind' Mission. |
| EMPEROR 620 RAGNAR | 32,000 | 529 | AWD | Can be purchased from fixer, requires street cred level of 12, location within City Center. |
| QUARTZ EC-T2 R660 | 29,000 | 220 | RWD | Can be purchased from fixer, requires street cred level of 12, location within Watson |
| KUSANAGI CT-3X | 22,000 | 183 | RWD | Can be purchased from fixer, requires street cred level of 12, location within Westbrook. |
| GALENA GECKO | 21,000 | 365 | AWD | Can be purchased from fixer, location within Badlands |
| COLUMBUS V340-F FREIGHT | 19,000 | 210 | RWD | Can be purchased from fixer, location within in City Center. |
| THRAX 388 JEFFERSON | 17,000 | 388 | RWD | Can be purchased from fixer, location within Heywood |
| SUPRON FS3 | 16,000 | 110 | FWD | Can be purchased from fixer, location within Santo Domingo. |
| MAIMAI P126 | 14,000 | 126 | RWD | Can be purchased from fixer, location within Westbrook. |
| GALENA G240 | 13,000 | 86 | FWD | Can be purchased from fixer, location within Watson. |
| APOLLO | | | | |
| BEHEMOTH | | | | |
| BRATSK | | | | |
| DELAMAIN TAXI | | | | |
| GALENA RATTLER | | 294 | AWD | Reward from 'These Boots are Made for Walkin' Mission. (This is exclusive to the Nomad V) |
| HELLA | | 225 | FWD | Starting Car in Cyberpunk 2077 |
| MACKINAW BEAST | | 560 | AWD | Obtained from 'The Beast in Me' Mission. |
| POLICE CAR (NCPD) | | | | |
| PORSCHE 911 | | 296 | RWD | Reward from 'Chippin In' Mission, if you obtain the key from Grayson and open the shipping container. |
| TURBO-R V-TECH | | 740 | RWD | Reward from 'Sex on Wheels' Mission |
| ZEYA | | | | |
---