Welcome, this Clash Royale Cards Tier List is based mostly on competitive play. We have Clash Royale Cards List of the Strongest Cards players should be using to increase their chances of winning. Most the higher tiers consist of choices that are simply overpowered in the current meta. Almost anything you find in higher tiers is considered among the Best Clash Royale Cards currently.
Best Clash Royale Cards
Rankings of the Best Cards found within CR, Ranked from Best to Worst.
S- TIER = BEST
F- TIER = WEAKEST
| | |
| --- | --- |
| S – TIER  | Miner, Zap, Bowler, Princess, Mega Minion, Ice Golem, Elite Barbarians |
| A – TIER  | Furnace, Lava Hound, Hog Rider, Giant, X-Bow, Lightning, Electro Wizard, Guards, Ice Spirit |
| B – TIER  | Arrows, Goblin Barrel, Minion Horde, Skeleton Army, Minions, 3 Musketeers, Knight, Tombstone, Archers, Elixir Collector, Fire Spirits, Skeletons, Rocket, Fireball, Golem, Inferno Tower, Ice Wizard, Balloon |
| C – TIER  | Mortar, Lumberjack, Cannon, Inferno Dragon, Tesla, Barbarians, Pekka, Spear Goblins, Prince, Royal Giant, Dark Prince, Valkyrie, Mirror, Poison, Mini Pekka, Freeze, Musketeer, Clone |
| F – TIER  | Rage, Sparky, Bomb Tower, Witch, Baby Dragon, Bomber, Wizard, Barbarian Hut, Goblin Hut, Giant Skeleton, Goblins |
The Elite Barbarians Poison Deck | Arena 8+
Win Condition: The Elite Barbarians excellent for destroying enemy towers, this is due to their speed in which the player will play this card on the bridge.
Why Elite Barbarians?: This card has received a huge buff recently.
Attack speed increase to attacking every 1.4 seconds from 1.5 seconds
19% increase in hitpoints
14% increase in damage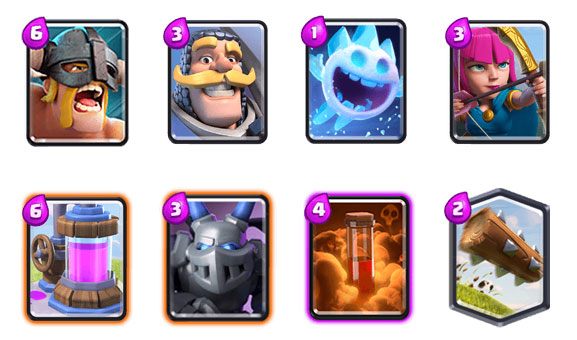 The Three Musketeers Deck | Arena 8 +
Win Condition: Split Pushing | Sending Your Cards down Both Lanes
Why The Three Musketeers?: This deck is rather easy to pick up and play, using what cards you to keep your opponent on his toes. when the perfect opportunity presents itself you get as much damage in as possible.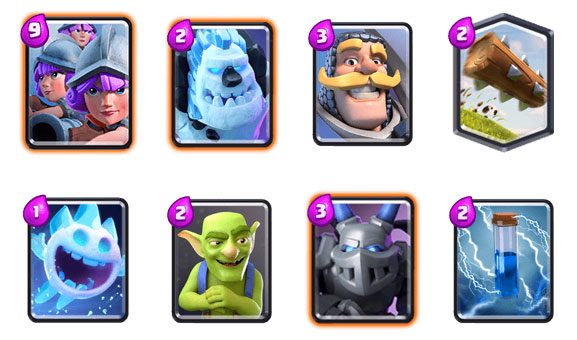 Want To View More of The Best Arena Decks?
Clash Royale Tier List FAQ's
| | |
| --- | --- |
| S – TIER  | These are the Best Clash Royale Cards, Over Powered since they can be used in almost any deck with effectiveness. |
| A – TIER  | Among the Best Clash Royale Cards when used in many of the Top Tier Decks. |
| B – TIER  | Strong and Situational Cards often used effectively in trading or specific Deck Builds. |
| C – TIER  | These Clash Royale Cards are mostly used as Combo Cards, alone they become less effective or useless. |
| F – TIER  | The Worst Cards found within the game. |
What's A Clash Royale Cards Tier List?
Ranking of the Best Clash Royale Cards, with S- Tier listing the Best and F- Tier having the Worst/Weakest.
How Do You Rank This Clash Royale Cards Tier List?
I use a combination of the Arena Meta and Competitive play to determine this Card Tier List.