Call of Duty WW2 KillStreaks are something every player looks forward to when they play, so let see what the best Scorestreaks in Call of Duty WW2 are.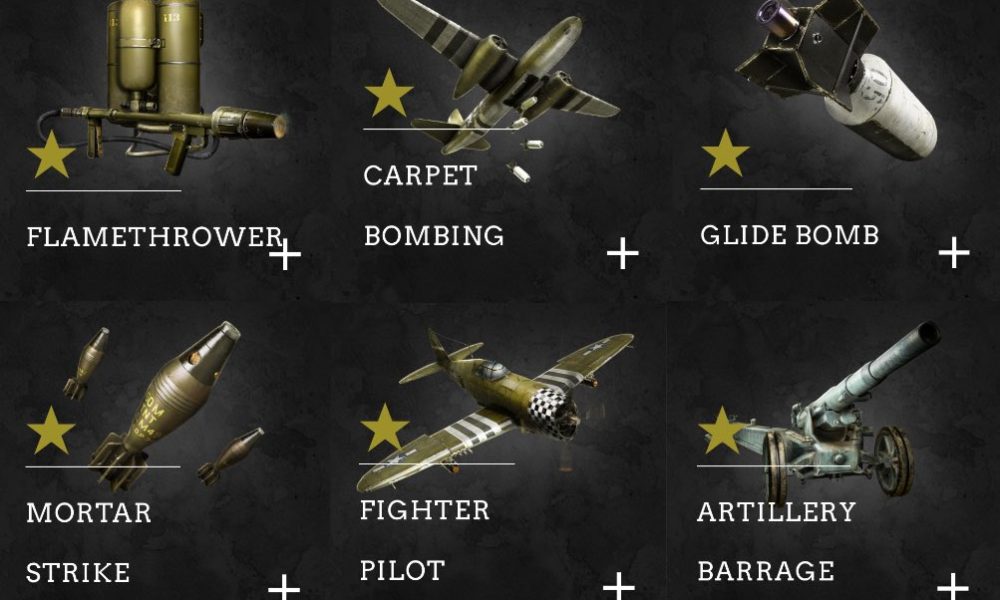 Call of Duty WW2 Killstreaks
Below is a list of all the Call of duty ww2 scorestreaks, credit for this information goes to reddit user by the name of Xeppeling and the rest of the Reddit community helping to sort through all the new stuff in the game.
ScoreStreak Name
Description
Score Required
Requisites Score Required
Molotov Cocktails
Improvised Incendiary Devices
300
700
Recon Aircraft
A recon aircraft that reveals enemies on the mini-map.
500
800
Counter Recon Aircraft
A fighter that destroys enemy Recon Aircraft or Counter Recon Aircraft, or blocks enemy Recon Aircraft.
425
Flamethrower
A portable backpack flamethrower.
500
Fighter Pilot
Fly a strafing run in a fighter aircraft.
525
Care Package
A care package is delivered on a parachute. It contains a random scorestreak.
575
1250
Glide Bomb
A remote controlled bomb.
650
1500
Mortar Strike
Precision strike upon three targeted locations.
750
Artillery Barrage
An artillery barrage on a designated location.
850
2100
Flak Guns
Destroys all enemy aerial scorestreaks, and blocks enemies from using new ones.
950
Paratroopers
Call in paratroopers reinforcements
1250
2800
Carpet Bombing
An aerial obliteration bombing that makes multiple passes over enemy occupied territory.
1200
Ball Turret Gunner
Occupy a B-17G and decimate enemies with its ball turret
1400
–
–
–
–
–
–
As more information becomes available through the BETA we will continue to up date this.