Welcome to our Call of Duty Black Ops 4 Map for Blackout. You can view the Best Map Locations in COD BO4 Black Out Battle Royale Mode. There are many iconic locations for players to visit and below we will list a couple of the high population landing areas on the map.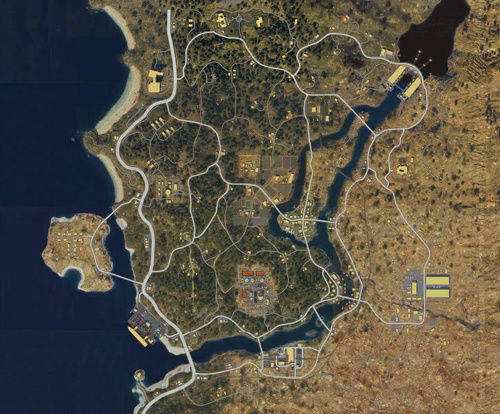 Call of Duty Black Ops 4 Blackout Map
This is a Call of Duty Black Ops 4 Blackout Map Locations List. We will include an image below showcasing a little bit about each area, credit for this image goes to a reddit user by the name of sergii17.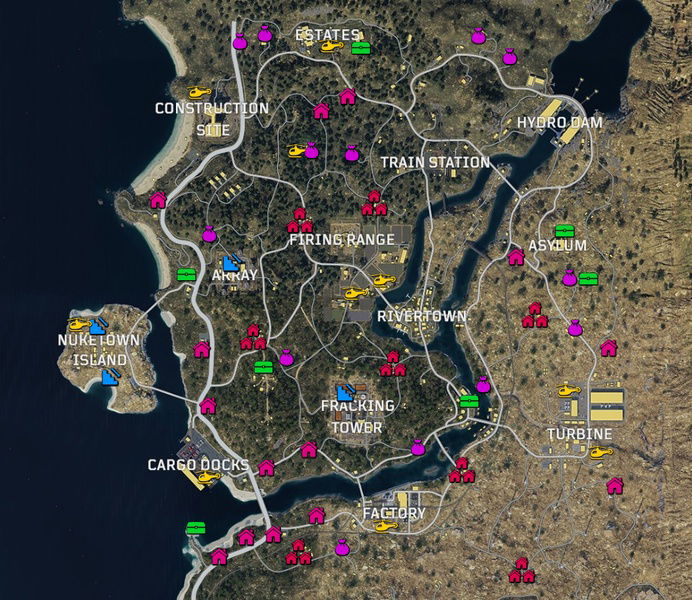 IGN suggest these are the Call of Duty Black Ops 4 Blackout Best Locations To Land to gather lots of loot and rare weapons.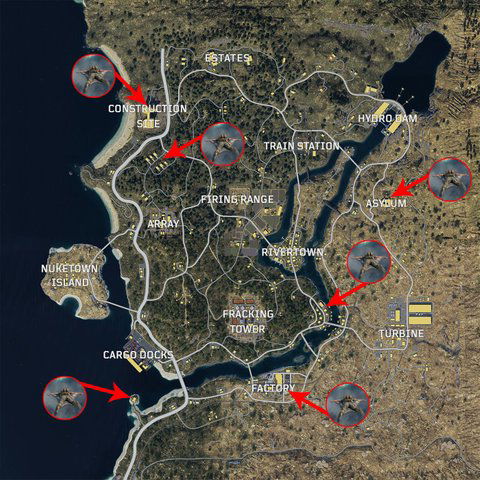 Call of Duty Black Ops 4 Blackout Map Locations
Location
Description
Estates
locale with a helipad and basketball court.
Construction Site
unfinished skyscraper with lots of loot and base jumping heights.
Nuketown Island
lots of gear in underground bunkers. Signboard displays how many players are in the area.
Array
satellite dish with few places of elevation.
Firing Range
small hotspot centered around lots of action.
Hydro Dam
large dam blocking the end of the maps central river. Able to base jump from this height.
Asylum
contains AI zombies and zombie caches.
Cargo Docks
elevated area, a giant ship, and crane arm to play on. One Zodiac boat spawn.
Factory
indoor outdoor fights with a rooftop.
Fracking Tower
tower inside a pit, lots of exposure to people on the surrounding hills.
River town
lots of buildings surrounded entirely by water.
How To Find Zombie Locations In Blackout
You might be wondering why do I need to find Zombies in Blackout Map? well, they drop rare and sometimes powerful weapons. Keep in mind Landing in Zombies filled areas is a high-risk high reward type of strategy for most players.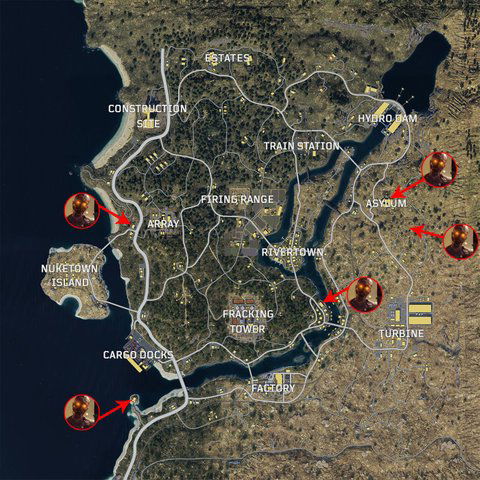 Zombie Locations
Description
Diner
West of the array is a diner with zombies nearby.
(Mystery Box Nearby)
Lighthouse
One of the largest Zombie Spawn Locations on the map.
(Mystery Box Nearby)
Boxing Gym
East of the fracking tower is a boxing gym filled with zombies.
(Mystery Box Nearby)
Asylum
Within a large mansion is another Zombie Spawn Location.
(Mystery Box Nearby)
Graveyard
Just South-east of the Asylum you will find a small graveyard.
(Mystery Box Nearby)
Zombie spawns are marked by a ray of light (blue beam) hitting the map in the area.
Only 2 spawn locations are active at once.
Zombie hordes are smaller then those found in regular zombie modes, Battling the Hordes reveal your position if you fire shoots at them.
Zombies drop loot and a zombie supply stash spawns with each active horde. Caches contain rare items like Raygun, Monkey bombs and the Zweihander.
Every time a ring collapse happens the Zombies get stronger.
Call of Duty Black Ops 4 Map Locations of Helicopter Spawn in Blackout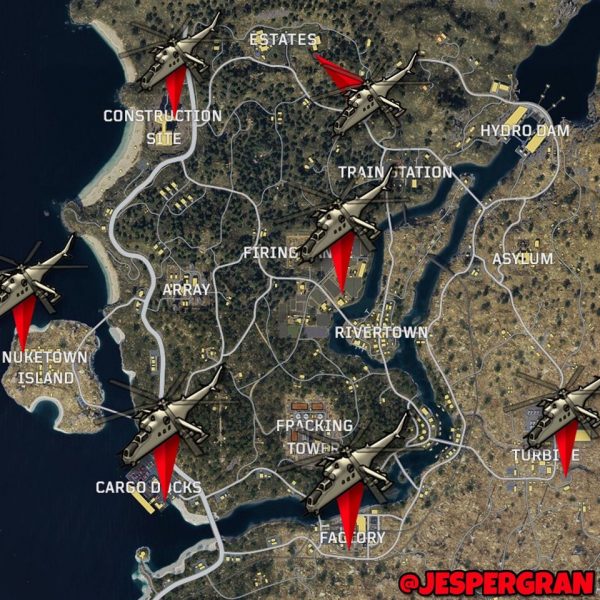 Call of Duty Black Ops 4 Multiplayer Maps
There is 14 Call of duty Black Ops 4 maps at launch players will have access to in multiplayer and next map Nuketown available for free in November.
CODBO4 Maps
Map
Description
Frequency
Contraband
Seaside
Payload
Hacienda
Arsenal
Icebreaker
Gridlock
Morocco
Militia
Jungle
Slums
Firing Range
Summit
Nuketown
(Available November)
Done looking at Call of Duty Black Ops 4 Maps? Have a look at our Weapons Tier List.