Welcome to our Nintendo Switch Arms Min Min Guide, Abilities, other Equipable Arms and Videos to showcase the character.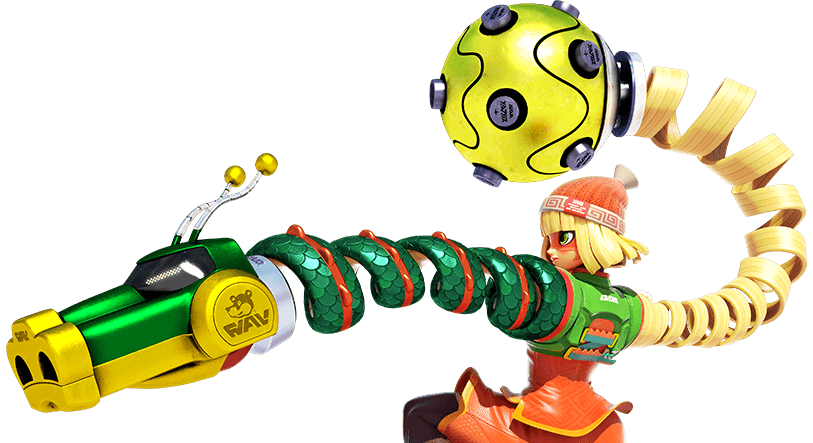 Min Min
Arms Character
Min Min (The Ramen Bomber)
Health
1000
Throw Damage
150
Abilities
Spin-Kick – Ability 1: While dashing, will kick away airborne ARMS, knocking them to the ground, leaving an opening. 

Dashing

left and right in the air performs a horizontal kick,

dashing

forward and back performs a vertical kick. She can also perform a Spin-Kick while

dashing

back on the ground(this method also

charges

her arms upon landing).

Enter The Dragon – Ability 2: After a successful throw or a long charge after dash, left arm will become a dragon and the left ARMS weapon will be charged for a much longer time; ends prematurely if Min Min is knocked down.

Personal Information
From: Noodle dish dining room
Height: 167cm
Weight: on a diet…
Age: 18
Likes: Ramen that my mother made
Bio
Signboard girl of the noodle dinner cafeteria famous for delicious ramen! Drop off the opponent's arm, winning the Grand Prix with a strong kick and personality!
Can you grasp the champion belt and appeal your home's canteen! Is it?
Min Min Arms Weapon
Dragon


Elemental Type: 
Damage: 90
Charged Damage: 130
Size:
Punch Type: Dragon Laser Beam
Upgrade:
Megawatt


Elemental Type: 
Damage: 110
Charged Damage: 110?
Size:
Punch Type: Big Slow Punch
Upgrade:
Ramram


Elemental Type: 
Damage: 80
Charged Damage: 120
Size:
Punch Type: Curved Punch
Upgrade: