Welcome to our Nintendo Switch Arms Mechanica Guide, Abilities, other Equipable Arms and Videos to showcase the character.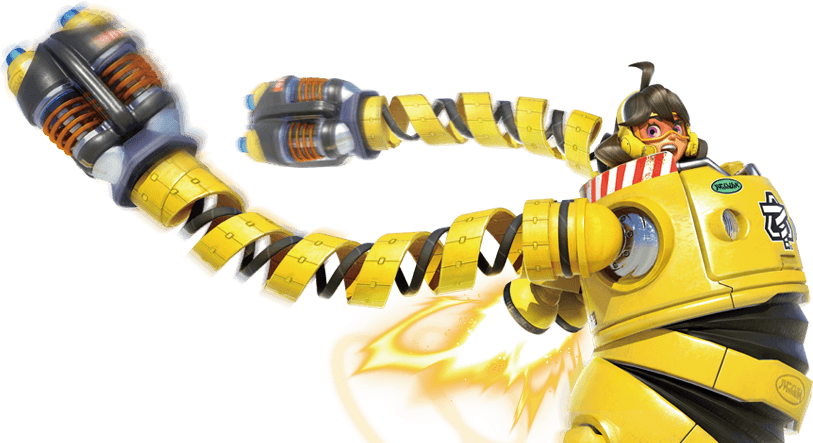 Mechanica
Arms Character
Mechanica (The Scrapyard Scrapper)
Health
1000
Throw Damage
160
Abilities
Boost – Ability 1:

Hold

dash

or

jump

in any direction to activate Mechanica's thrusters and hover for about 1.5 seconds. In the air, Mechanica has a longer

dash

.

Metal Body – Ability 2: Will not flinch from non-charged (and some charged) attacks while jumping, dashing, or punching; also gain 50% damage reduction when a punch is resisted

Personal Information
From: Scrap yard
Height: 234cm
Weight: 545kg / 45kg
Age: 15
Likes: ARMS fighter
(especially ribbon girl!)
Bio
Working at a town factory, ARMS Freak's genius girl!
A girl who does not have "ARMS ability" with her arms riding, wears her own powered suit and enters war!
With the hover function that can also make a landing, fly around the yearning ARMS Grand Prix! It is!
Mechanica Arms Weapon
Revolver


Elemental Type: 
Damage: 70
Charged Damage: 70
Size:
Punch Type: Triple Punch
Upgrade:
Whammer


Elemental Type: 
Damage: 100
Charged Damage: 120?
Size:
Punch Type: Hammer Punch
Upgrade:
Homie


Elemental Type: 
Damage: 70
Charged Damage: 70+50
Size:
Punch Type: Homing Punch
Upgrade: