Welcome to our Nintendo Switch Arms Max Brass Guide, Abilities, other Equipable Arms and Videos to showcase the character.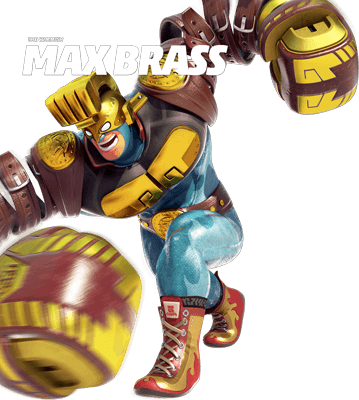 Max Brass
Arms Character
Max Brass (The Commish)
Health
1000
Throw Damage
?
Abilities
Max Brass can deflect incoming ARMS and gains permanently charged arms when he is below 20 percent health. He can also able to buff up his upper body when charging in order to prevent flinching.
Personal Information
From:  ARMS League
Height: 195 cm
Weight: 117 kg
Age: 52
Likes: Training and inspiring new fighters.
Bio
Head of the ARMS League, the organizing body of the ARMS Grand Prix! You'd never guess his age once he charges and pumps up that beefy body to maximum buffness. As reigning champ, he awaits new challengers in the championship round of the Grand Prix!
Max Brass Arms Weapon
Nade


Elemental Type:
Damage: ?
Charged Damage: ?
Size:
Punch Type:
Upgrade:
Roaster


Elemental Type:
Damage: ?
Charged Damage: ?
Size:
Punch Type:
Upgrade:
Kablammer


Elemental Type:
Damage:
Charged Damage: 
Size:
Punch Type:
Upgrade: