Welcome to our Nintendo Switch Arms Master Mummy Guide, Abilities, other Equipable Arms and Videos to showcase the character.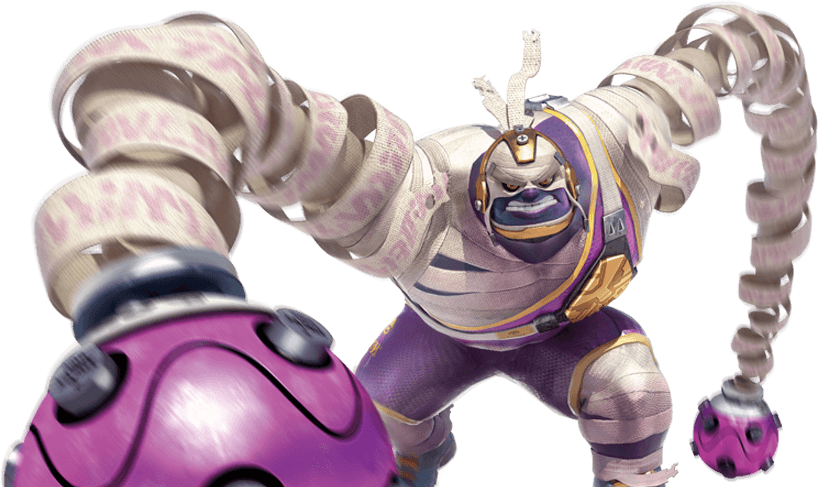 Master Mummy
Arms Character
Master Mummy (The Grim Reaper)
Health
1000
Throw Damage
200
Abilities
Thick Skin – Ability 1:

While

attacking

,

dashing

, or

jumping

, Master Mummy Will not flinch from non-charged (and some charged) attacks. Damage taken from a punch is reduced by 50%. 

Soul Absorption – Ability 2: While guarding, Master Mummy heals for 10 HP every second. After 3-4 seconds, the healing speeds up to 20HP every second(two counts of 10 every second).

Personal Information
From: Mommy Hospital
Height: 231cm
Weight: 167kg
Age: ??
Likes: Family (currently missing …)
Bio
A power mummy wrapped in a bandage!
The flesh that I did not think as a mummy is a super heavyweight that does not get caught by an odd punch!
Why he participates in the Grand Prix who is unknown except what he woke up with Mommy Hospital! Is it?
Master Mummy Arms Weapon
Megaton


Elemental Type: 
Damage:110
Charged Damage:130
Size:
Punch Type: Big Slow Punch
Upgrade:
Phoenix


Elemental Type: 
Damage: 80
Charged Damage: 120
Size:
Punch Type: Bird Punch
Upgrade:
Retorcher


Elemental Type: 
Damage: 70
Charged Damage: 110
Size:
Punch Type: Triple Punch
Upgrade: