Welcome to our Nintendo Switch Arms Helix DNA Man Guide, Abilities, other Equipable Arms and Videos to showcase the character.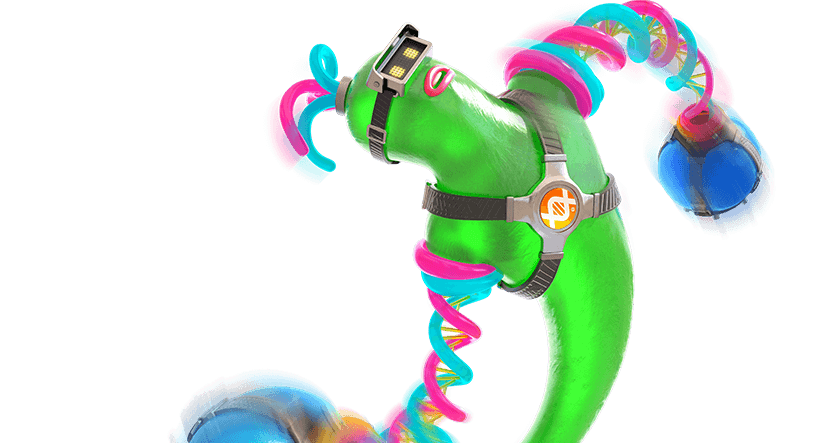 Helix DNA Man
Arms Character
Helix (The Man of Mystery)
Health
1000
Throw Damage
150
Abilities
Stretch – Ability 1:

Hold

jump

to extend Helix's body vertically. In this state, you can move the left stick in any direction to tilt his upper body. Also, while holding

jump

, arms stay perma-charged.

Squash – Ability 2: Hold dash to squash Helix's body close to the ground for about 1.5 seconds. When dashing, Helix ducks temporarily, dodging high attacks

Personal Information
From: ARMS laboratory
Height: 30 to 250 cm
Weight: 97 kg
Age: 2
Likes: Watching the ARMS Grand Prix
Bio

ARMS laboratory, ARMS laboratory created experimental body! He gets not only his arms but also his bodies, he only has standard arms!
Secretly get into the Grand Prix to prove laboratory research results! It is!
Helix Arms Weapon
Gelgel


Elemental Type: 
Damage: 100
Charged Damage: 100
Size:
Punch Type: Big Slow Punch
Upgrade:
Reidra


Elemental Type: 
Damage: 90
Charged Damage: 100
Size:
Punch Type: Dragon Lazer Beam
Upgrade:
Phalanx


Elemental Type: 
Damage: 80+45
Charged Damage: 80+45
Size:
Punch Type: Shield Punch
Upgrade: