Welcome to our Nintendo Switch Arms Byte & Barq Guide, Abilities, other Equipable Arms and Videos to showcase the character.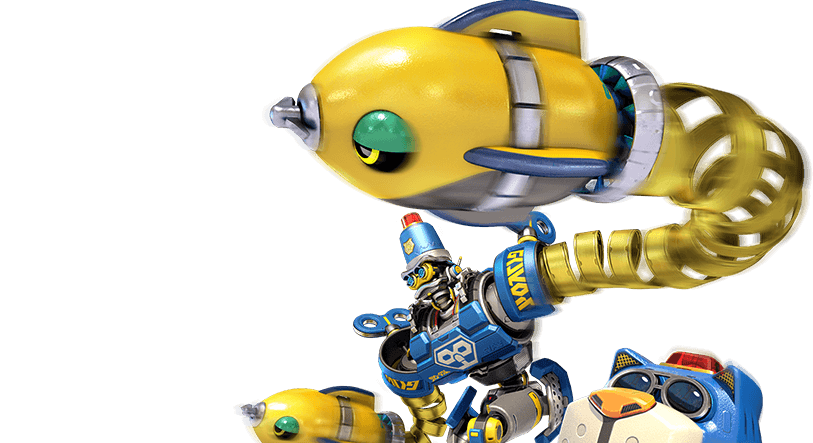 Byte & Barq
Arms Character
Byte & Barq (The Clockwork Cops)
Health
1000
Throw Damage
150
Abilities
– Ability 1: Barq is AI controlled and can attack, move, bodyblock, and be knocked out for around 5 seconds; using the Super Move will instantly revive Barq and merge him with Byte, removing him from the field

– Ability 2: Byte can jump on Barq to jump with extra height

Personal Information
From: Seashore park department
Height: 189cm
Weight: Together 120 kg
Age: K-9000
Likes: brine
Bio
A security robot's bite and Robo dog Burke are two patrol combination in two! With a big jump with Bark as a stepping stone, I came to punch for my target!
If I win the Grand Prix …… What will you do for beach patrol work! Is it?
Byte and Barq Arms Weapon
Chaser


Elemental Type: 
Damage: 70
Charged Damage: 70+40
Size:
Punch Type: Homing Punch
Upgrade:
Cracker


Elemental Type: 
Damage: 70
Charged Damage: 110?
Size:
Punch Type: Popper Punch
Upgrade:
Ballooner


Elemental Type: 
Damage: 90
Charged Damage: 100?
Size:
Punch Type: Standard Punch
Upgrade: