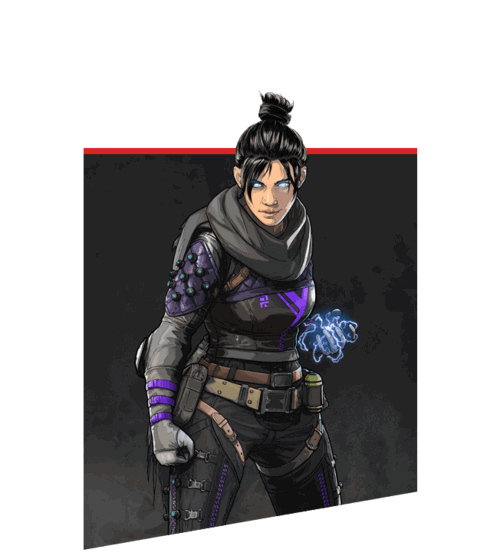 Wraith
Quote

There's a thin line between life and death. You'll find me there.
Apex Legends Wraith Guide
The Apex Legend Wraith Guide explains the uses of the Tactical Ability Into the Void, Passive Ability Voices from the Void and the Ultimate Ability Dimensional Rift. We recommend using weapons like Mastiff, R-301, Peacekeeper due to the playstyle and abilities of this character. Also Playing With Pathfinder, Caustic will make your abilities more effective and stronger whereas Playing Against characters like Bloodhound have abilities that can counter your own.
| Real Name | Title | Age |
| --- | --- | --- |
| Redacted | Interdimensional Skirmisher | Redacted |
Apex Legends Wraith Abilities
This is the Apex Legends Wraith Guide for Abilities and how they interact in the game.
Into the Void
Reposition quickly through the safety of void space, avoiding all damage. Duration ~ 3s
Cooldown ~ 15s
When using you leave a trail that players can track.
You cannot see other players while active.
While active you will gain roughly 4% increased movement speed.
---
Voices from the Void
A voice warns you when danger approaches. As far as you can tell, it's on your side. You will hear a voice when an enemy player is looking/aiming at you.
You can press the "H" key to notify your teammates.
---
Dimensional Rift
Link two locations with portals for 60 seconds, allowing your entire team to use them. Charge Time ~ 150s
Portal Duration ~ 60s
While active you will gain 25% increased movement speed.
Both enemies and allies can use your Dimensional Rift Portal.
You can use your Tactical Ability (Into the Void) during Dimensional Rift.
Best Weapons For Wraith
These are the best weapons for this character based on play style and abilities.
These Legends are what Wraith is weak against.
These are the best characters to play with Wraith as a team.
List of all the Skins for Wraith with images and orginized by rarity.