Welcome to our Apex Legends Shotgun List, here you can view the Best Shotgun Stats in Apex Legends. The weapon of choice for close range run and gun gameplay, thanks to good bullet spread and even better damage when fired up close.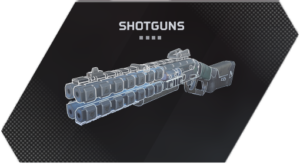 Apex Legends Best Shotguns
We display the Apex Legends Shotguns using a Tier List format. You can find the Apex Legends Best Shotguns in the S Tier, after that they start to become weaker ending with F Tier.
S

Mastiff

Peacekeeper

A

EVA-8 Auto

B

C

D

E

Mozambique

F
Apex Legends Shotguns Stats
Below we have a listed each of the Shotgun Stats for Body and Head Damage, along with the attachments that can be used with each one.
Shotguns
Attachments
Body Damage
Head Damage
Info
Mozambique
-Optic
-Mag
45
66
Triple-barrel shotgun pistol.
Peacekeeper
-Optic
-Mag
-Hop-up
110
165
Lever-action.
EVA-8 Auto
-Optic
-Mag
63
90
Full-auto.
Mastiff
None
144
288
Powerful semi-auto.
Want to View other Apex Legends Guides? Tap any of the links below to view other content in the game.