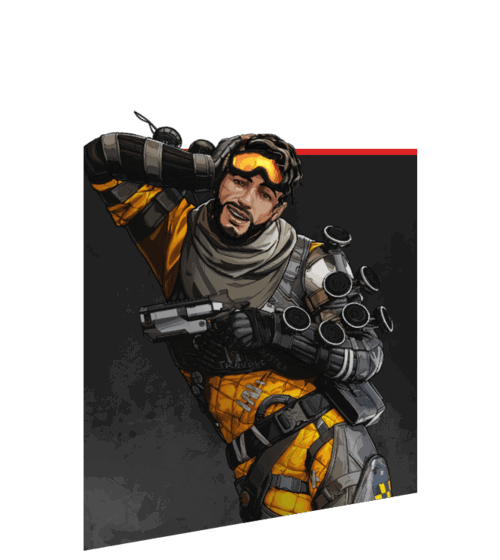 Mirage
Quote

I don't take myself too seriously. I don't take myself anywhere. I need to get out more.
Apex Legends Mirage Guide
The Apex Legend Mirage Guide explains the uses of the Tactical Ability Psyche Out, Passive Ability Encore! and the Ultimate Ability Vanishing Act. We recommend using weapons like Flatline, Peacekeeper, R-301 due to the playstyle and abilities of this character. Also Playing With Lifeline will make your abilities more effective and stronger whereas Playing Against characters like Bloodhound have abilities that can counter your own.
You can Unlock the Legend Mirage by using 750 Apex Coins ($10) or 12,000 Legend Tokens (In-game currency earned from playing).
| Real Name | Title | Age |
| --- | --- | --- |
| Elliott Witt | Holographic Trickster | 30 |
Apex Legends Mirage Abilities
This is the Apex Legends Mirage Guide for Abilities and how they interact in the game.
Psyche Out
Send out a holographic decoy to confuse the enemy. Duration ~ 15s
Cooldown ~ 15s
When the Clone is shot it revels the enemies location
---
Encore!
Automatically drop a decoy and cloak for five seconds when knocked down. Duration ~ 5s
When knocked down you become cloaked and a decoy is spawned.
---
Vanishing Act
Deploy a team of Decoys to distract enemies while you cloak. Duration ~ 5s
Amount of Decoys ~ 5
Charge Time ~ 150s
Deploy multiple Decoys and Cloak when used.
Cannot use items while cloaked.
Best Weapons For Mirage
These are the best weapons for this character based on play style and abilities.
These Legends are what Mirage is weak against.
These are the best characters to play with Mirage as a team.
List of all the Skins for Mirage with images and orginized by rarity.