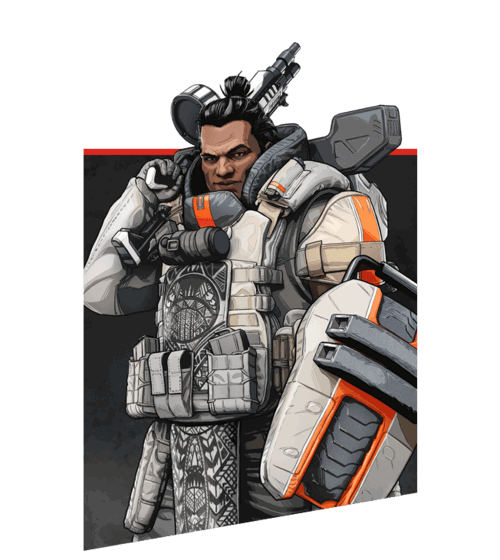 Gibraltar
Quote

Try to move me; it'll be fun.
Apex Legends Gibraltar Guide
The Apex Legend Gibraltar Guide explains the uses of the Tactical Ability Dome of Protection, Passive Ability Gun Shield and the Ultimate Ability Defensive Bombardment. We recommend using weapons like Triple Take, Spitfire, G7 Scout due to the playstyle and abilities of this character. Also Playing With Lifeline, Caustic will make your abilities more effective and stronger whereas Playing Against characters like Pathfinder, Gibraltar have abilities that can counter your own.
| Real Name | Title | Age |
| --- | --- | --- |
| Makoa Gibraltar | Shielded Fortress | 30 |
Apex Legends Gibraltar Abilities
This is the Apex Legends Gibraltar Guide for Abilities and how they interact in the game.
Dome of Protection
Throw down a dome-shield that blocks attacks for 15 seconds. Duration ~ 15s
Cooldown ~ 20s
You can use the shield to protect and as you revive a downed ally.
Blocks all incoming and outgoing damage.
---
Gun Shield
Aiming down sights deploys a gun shield that blocks incoming fire. The Gun Shield Blocks 100 Damage
---
Defensive Bombardment
Call in a concentrated mortar strike on a marked position. Duration ~ 8s
Charge Time ~ 270s
Shellshock Duration ~ 4s
Delay after using Flare ~ 2s
Damage ~ 40s
Mortar Strike deals damage and shellshock
Best Weapons For Gibraltar
These are the best weapons for this character based on play style and abilities.
These Legends are what Gibraltar is weak against.
These are the best characters to play with Gibraltar as a team.
List of all the Skins for Gibraltar with images and orginized by rarity.