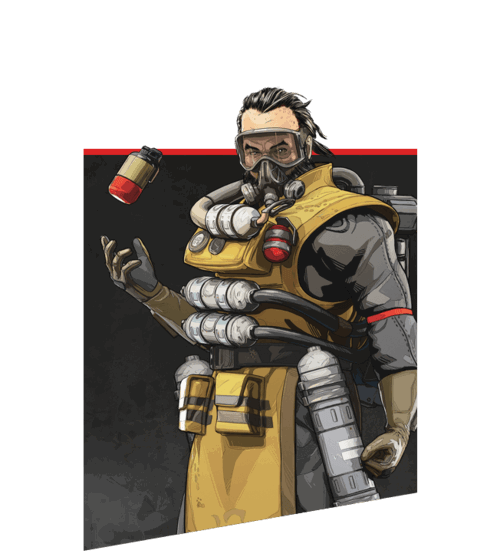 Caustic
Quote

I don't concern myself with the ambitions of insects.
Apex Legends Caustic Guide
The Apex Legend Caustic Guide explains the uses of the Tactical Ability Nox Gas Trap, Passive Ability Nox Vision and the Ultimate Ability Nox Gas Grenade. We recommend using weapons like Devotion, Flatline, R-301, G7 Scout due to the playstyle and abilities of this character. Also Playing With Bloodhound, Wraith will make your abilities more effective and stronger whereas Playing Against characters like Lifeline have abilities that can counter your own.
You can Unlock the Legend Caustic by using 750 Apex Coins ($10) or 12,000 Legend Tokens (In-game currency earned from playing).
| Real Name | Title | Age |
| --- | --- | --- |
| Alexander Nox | Toxic Trapper | 48 |
Apex Legends Caustic Abilities
This is the Apex Legends Caustic Guide for Abilities and how they interact in the game.
Nox Gas Trap
Drop canisters that release deadly Nox gas when shot or triggered by enemies. Gas Trap Limits ~ Holds 3 & can place up to 6 at a time.
Gas Durtion Duration ~ 12.5s
Cooldown ~ 30s
Detection Radius ~ 125
Nox Gas Trap Radius ~ 256
Nox Gas Effects ~ reduces vision and cannot sprint (This affects both enemies and allies)
You can place this trap to block doors from closing or opening.
Placing at the entrance of your ally or enemy Dimensional Rift (Wraith Ability).
---
Nox Vision
Allows you to see enemies through your gas. ---
Nox Gas Grenade
Blankets a large area in Nox gas. Charge Time ~ 150s
Duration ~ 20s
Radius ~ 500
While in the gas enemies take 1 Damage Per Second.
Best Weapons For Caustic
These are the best weapons for this character based on play style and abilities.
These Legends are what Caustic is weak against.
These are the best characters to play with Caustic as a team.
List of all the Skins for Caustic with images and orginized by rarity.