This is our guide on Mystery Tours in Animal Crossing New Horizons, in this guide you will learn what a Mystery Tour is, how to go on one and how to get the most out of your tours.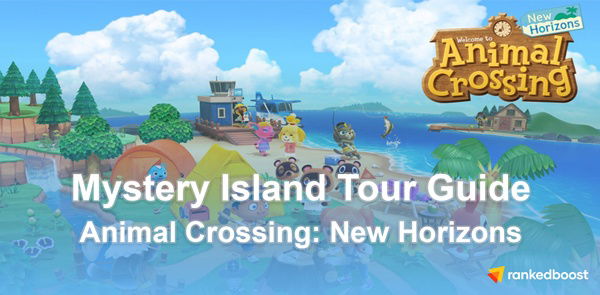 What is a Mystery Island Tour
mystery tours are semi randomly-generated islands created when you use a Nook Miles Ticket at Dodo Airlines.
What tools you have to bring
Shovel

Fishing Rod

Net

Vaulting Pole (Highly recommended)

Ladder (Not necessary but is nice to have)

Fruit (Is not needed but can help if you wish to dig up trees and break rocks)
Tip: try to be there with an empty inventory besides your tools and food
If your tools break, you still have access to a DIY workbench. You can talk to Wilbur, and you can buy tools from him with Nook Miles.
How to go on a mystery tour.
Make sure you pay off the initial loan

Talk to Tom Nook (For a free ticket)

Bring the ticket to the airport

talk to Orville and ask to go on a mystery tour
If you want more tickets after the first free one, you will have to purchase them with miles at the ATM in Nooks Tent/Resident Services
Main things that can be found on mystery tours
Special Fruit

Villagers 

(They only appear sometimes, they can be asked to move to your island.)
Tip: Consider buying a pocket organization guide for ten slots of extra space
List of Mystery Islands
Some islands spawn at certain times of the day. For Example, Tarantula Island (Only found at night).
Island Type
What You Find
Rank
Tarantula Island
Tarantula Bugs (8000 Bells)
Best
Dorsal-Finned Fish Island
Varieties of Shark and Ocean Sunfish (Great White Shark 15000 Bells)
Best
Money Island
Bells come out of all the rocks you hit, and there are five rocks in the middle island.

(Must bring Vaulting Pole and Shovel)

Best
Coelacanth Island
Coelacanth (15000 Bells)
Best
Normal Island

Coconuts
Fruit (Sometimes fruit not native to your island)

Average
Emperor Butterfly Island

Rare rose colors (Pink and Orange)

Infinitely spawning Emperor Butterflies

Koi can be fished up in a central lake

Average
Garbage Island
You just fish up garbage.
Worst
There are still more undiscovered Mystery Islands to be found and this List will be updated when more information becomes available.
It also should be noted, if you save and quit, your tour will be over, and you will be returned to your home when you start up again.
Tarantula Island ACNH
The Tarantula island is best for making bells since Tarantulas spawn indefinitely. Remember, Tarantulas only spawn at night.
You can make your own Tarantula island on the mystery tour without finding a genuine tarantula island.
Wait until it is night, you will know when it is time when Tarantulas spawn on your island.

Make sure you have all of the tools you need. (A Net, Shovel, Axe, Vaulting Pole, Ladder, And Fruit. Be sure to get multiple Nets.)

Go on an Island Tour

Eat some fruit.

Clear out all of the rocks and trees; to get rid of trees, you will want to chop them down with an Axe and dig up the stumps left behind. For the rocks, you will want to eat some fruit and then hit them with a shovel to break them. You will need a ladder to reach the higher levels of the island.

Get rid of all the bugs on the island by catching them and letting them go. (Butterflies, Ladybugs, Hermit crabs on the beach, etc.)

Pick all of the flowers on the island; you do not have to uproot them. You have to pick them.

Drop everything you got on the ground (Flowers, Wood, any resources that are not needed.)

Tarantulas should now start spawning, and you can catch as many as you can hold.
When trying to catch a Tarantula, you want to sneak with your net and approach slowly. If you see them stand up on their hind legs, you want to stop and wait until they start wandering or stand normal again, then you can close in on them and catch them.
The best way to get coconuts and Bamboo Shoots are through Mystery Island Tours.
Remember, you can not bury Bamboo Pieces or Young Spring Bamboo to grow Bamboo; you need to grow Bamboo Shoots. You get those by digging next to the Bamboo you find on the island.
Don't forget you can also eat some fruit and pick up the Bamboo
You can also get bamboo shoots from Daisy Mae if you spend a lot of Bells on her turnips. (She comes to your island every Sunday)