This is all of the information we have on Label in Animal Crossing New Horizons. You will learn what steps are needed to unlock her and what Challenges she brings. Label made her first appearance in City Folk, working alongside Gracie.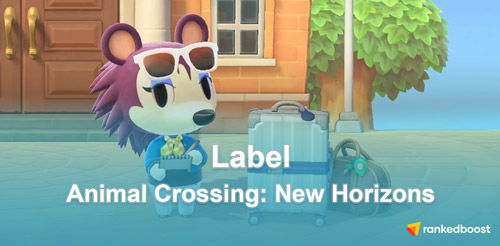 Who Is Label?
Label or otherwise known as "Labelle" is the third sister of the Able Sisters, she is out traveling the world to seek out new fashion trends. She will occasionally visit your Island.
How To Unlock Label In Animal Crossing New Horizons
Unlocking Label takes longer than one might think, but it only requires you to open the Able Sisters Shop. The steps leading up to that are what takes time.
Label's Fashion Challenges In Animal Crossing New Horizons
When Label appears on your Island, when you speak to her, she will end up giving you a Fashion Challenge. Your task is to dress up to fit a particular category, Label will provide you with a piece of clothing to help you choose out your outfit. Once you have picked out your outfit, you will need to return to Label and show it to her.
The list of categories that you'll be asked to imitate is below.
Gothic
Work
Vacation
Theatrical
Everyday
Comfy
Formal
Outdoorsy
Fairy Tale
Party
Sporty
Casual
Formal
This list may be incomplete and will be updated when more information becomes available.
Fashion Challenges Rewards
After impressing Label, she will give you one of the many items of her Brand of clothing (Labelle), and depending on how well you do; she might give you multiple Tailor's Tickets to be used at Able Sisters. These Tickets will be sent to you the next day by mail. (When redeemed gives you an item under 3,000 Bells to you for free.)
Once Label has given you these clothing items, they will be available to purchase inside The Able Sisters shop with different color variants.
| | |
| --- | --- |
| Labelle Cap | |
| Labelle Hat | |
| Labelle Knit Shirt | |
| Labelle Coat | |
| Labelle Dress | |
| Labelle Skirt | |
| Labelle Shorts | |
| Labelle Socks | |
| Labelle Tights | |
| Labelle Sneakers | |
| Labelle Pumps | |
| Labelle Sunglasses | |
This List may be incomplete and will be updated when more clothes are confirmed.