This is all the information we have on Kicks in Animal Crossing New Horizons. Here you will learn who Kicks is and what kinds of things he sells. Kicks has been around since the City Folk days. He got his shop in New Leaf, and now, well, he still sells things, but he doesn't have a permanent shop.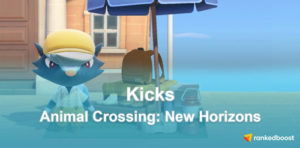 Who Is Kicks?
Kicks is a Skunk who comes to your Island Randomly every week after Resident Services has been upgraded to a building, and Able Sisters has been built. He sells his wares from 5 AM to 10 PM.
Does Kicks Set Up His Own Shop?
As much as we would love him to have his own shop, at this time, Kicks can't stay on your Island and open his own shop.
What Does Kicks Sell In Animal Crossing New Horizons
Kicks sometimes sells Variants of other clothing you can purchase from Nook Shopping and Able Sisters. He is the only Vendor to sell Bags, however. He also sells some unique Socks and Shoes, that cannot be found anywhere else.
Socks
Shoes
Hand Bags
Back Packs
Bags do not give you extra inventory despite being bags. They are purely cosmetic.