This is all the information we have on K.K. Slider in Animal Crossing New Horizons. Here you will learn, who K.K. is, how to unlock him, and list of all the songs he can give you. K.K. Slider has been apart of the series since the very first game. His role has not changed; he's still a wandering artist who loves doing what he does.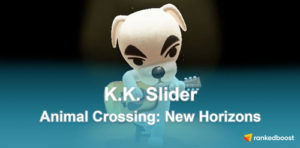 Who Is K.K. Slider?
K.K. Slider is a Dog who is also a Musician. You see him briefly at the beginning of the game. His second appearance is the mark of the final set goal for you to accomplish. Afterward, he will appear every Saturday, playing his music as always.
How To Unlock K.K. Slider In Animal Crossing New Horizons
Unlocking K.K. takes time and has a few steps to it, below is the simplified steps needed to bring him to your Island.
Pay off your deserted getaway package (5,000 Nook Miles.)
Have built Nook's Cranny. (Timmy and Tommy will ask you about this.)
Built at least one Bridge. (Tom Nook will give you the Bridge Kit needed to build it.)
Have decorated 3 Houses for Villagers to move into. (Tom Nook will also give you the Housing Plots needed for this step.)
Have upgraded Resident Services into a building.
Built the Campground. (The Campground's Plot is given to you by Tom Nook.)
Get at least 7 Villagers to move onto your Island.
Achieve a 3 Star Rating.
After you have accomplished all of these steps, the next day, Isabelle will announce K.K. Slider is on the Island, and you will be brought to the Concert automatically alongside all of the Villagers on the Island, and the Credits will roll. After the Concert, you will be brought back to your house, where Tom Nook will give you a copy of the song K.K. played, "Welcome Horizons," and the ability to Terraform.
With this, you have finished the "Story Mode" of Animal Crossing New Horizons. You are free to do whatever you want with your Island.
What Times Does K.K. Appear?
After the Concert celebrating your 3 Star Rating, he will appear every Saturday playing his songs, after 6 PM he will allow you to request songs from him. K.K. will give you a copy of the first song you ask from him for the day. You can keep requesting songs for him to play, but he will not give you another copy until you request another song from him next week.
Songs That Need To Be Requested
The songs below can not be found using Nook Shopping and need to be requested from K.K. Slider. When you request a song from him, be sure to press the option "Gimmie that one song." Welcome Horizons is given to you during his first Concert, but since there are no other methods of obtaining that song, we'll list it here with the rest of the requestable songs.
Animal City
Drivin'
Farewell
K.K. Birthday
Welcome Horizons
List Of All K.K. Slider Songs In ACNH
Below is a list of all K.K. Slider Songs in the game, almost all of them can be purchased with Nook Shopping as they appear. There are a few that can not be bought and must be requested by K.K. himself. When requesting songs from him, it needs to be written exactly (Spaces included) what the song is called. There are also no spaces between each K.
| | | | |
| --- | --- | --- | --- |
| Agent K.K. | Aloha K.K. | Animal City | Bubblegum K.K. |
| Cafe K.K. | Comrade K.K. | DJ K.K. | Drivin' |
| Farewell | Forest Life | Go K.K. Rider | Hypno K.K. |
| I Love You | Imperial K.K. | K.K. Adventure | K.K. Aria |
| K.K. Ballad | K.K. Bazaar | K.K. Birthday | K.K. Blues |
| K.K. Bossa | K.K. Calypso | K.K. Casbah | K.K. Chorale |
| K.K. Condor | K.K. Country | K.K. Cruisin | K.K. D&B |
| K.K. Dirge | K.K. Disco | K.K. Dixie | K.K. Etude |
| K.K. Faire | K.K. Flamenco | K.K. Folk | K.K. Fusion |
| K.K. Groove | K.K. Gumbo | K.K. House | K.K. Island |
| K.K. Jazz | K.K. Jongara | K.K. Lament | K.K. Love Song |
| K.K. Lullaby | K.K. Mambo | K.K. Marathon | K.K. March |
| K.K. Mariachi | K.K. Metal | K.K. Milonga | K.K. Moody |
| K.K. Oasis | K.K. Parade | K.K. Ragtime | K.K. Rally |
| K.K. Reggae | K.K. Rock | K.K. Rockabilly | K.K. Safari |
| K.K. Salsa | K.K. Samba | K.K. Ska | K.K. Sonata |
| K.K. Song | K.K. Soul | K.K. Steppe | K.K. Stroll |
| K.K. Swing | K.K. Synth | K.K. Tango | K.K. Technopop |
| K.K. Waltz | K.K. Western | King K.K. | Lucky K.K. |
| Marine Song 2001 | Mountain Song | Mr. K.K. | My Place |
| Neapolitan | Only Me | Pondering | Rockin' K.K. |
| Soulful K.K. | Space K.K. | Spring Blossoms | Stale Cupcakes |
| Steep Hill | Surfin' K.K. | The K. Funk | To The Edge |
| Wandering | Two Days Ago | Welcome Horizons | |