This is all of the information we have about Gulliver in Animal Crossing New Horizons. Gulliver in the past would wash up on shore as he does in this game, but before you would have to answer questions he gives you about other countries, if you are correct, he will give you a souvenir from that country. The way he gives you these souvenirs are a little bit different this time around.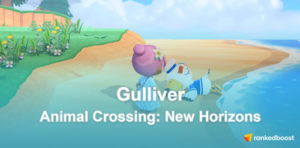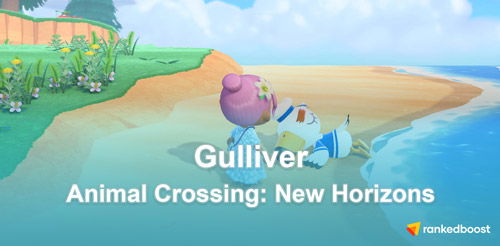 Who Is Gulliver?
Gulliver is a Seagull who fell overboard from his ship and washed up on your Island shore, he has traveled to many different places around the world and needs your help finding his communicator parts to tell his crew of his location. When you first encounter him, he will be unconscious on the beach, speaking with him multiple times will wake him up, and he will ask for your help.
It should also be known, helping Gulliver 30 times, gives you the Golden Shovel DIY Recipe, from the mail.
How To Get Gulliver's Communicator Parts In Animal Crossing New Horizons
Once you wake him up and he has come to his senses, he will realize his Communicator is "busted" and needs to be repaired, and he will ask for your help on retrieving his lost parts.
Look for the holes in the sand that squirt water. (These usually have Manila Clams in them, they still can be dug up, but you will find his communicator parts as well.)

Dig them up with a Shovel (Until you find five of them.)

Bring them to Gulliver (He will say he is sending a gift to you soon.)

Check your mailbox the next day (You will receive a rare furniture item based off of a country.)
Note: These rare furniture items can not be bought in the catalog. I do not recommend selling them.
List Of Items Gulliver Can Gift You
Below is a list of the Furniture and Clothing Gulliver can give you, these rare items can not be obtained anywhere else and can not be ordered from the catalog. They are based on objects around the real world. How he acquires these objects is beyond us.
| Furniture | |
| --- | --- |
| Lucky Cat | |
| Sphinx | |
| Pagoda | |
| Pyramid | |
| South Pole | |
| Nutcracker | |
| Hula Doll | |
| Stonehenge | |
| Statue Of Liberty | |
| Moai Statue | |
| Tower Of Pisa | |
| Katana | |
| Dala Horse | |
| Clothes | |
| --- | --- |
| Pigtail | |
| Geisha Wig | |
| Veil | |
| Turban | |
| Coin Headpiece | |
| Kaffiyeh | |
| Milkmaid Hat | |
| Tubeteika | |
| Tam-O'-Shanter | |
| Silk Hat | |
| Sombrero | |
| Elder Mask | |
| Alpinist Hat | |
| Ancient Administrator Hat | |
| Candy-Skull Mask | |
| Ancient Belted Robe | |
Note: These lists are not complete and will be updated when we can confirm more information.