This is our guide on Golden Tools in Animal Crossing New Horizons. In this guide, you will learn what Golden Tools are and how to make them. These tools have been apart of the series since the beginning, they usually did not do anything until later games, but the Golden Shovel would allow you to grow Bell Trees.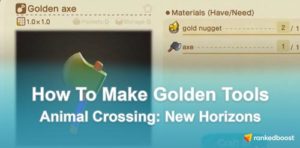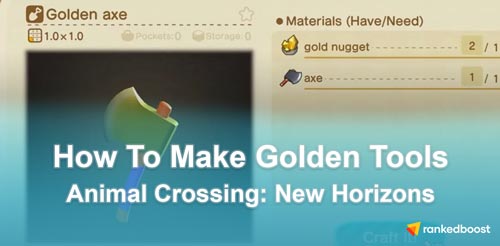 How To Get The DIY Recipe For Golden Tools in ACNH
These tools require you to complete specific requirements in order to unlock them. They can take months of work, and some could take a week or so.
You are not required to donate the fish and bugs to the Museum, but since you have to capture one of each, I recommend donating each type of bug and fish.
How To Make Golden Tools in Animal Crossing New Horizons
Golden Tools CAN still break; they have the highest durability of any other tools.
You can only Craft these tools but you will have to unlock the DIY recipes in order to make them.
Recipe
Materials Needed
Obtained From

Golden rod

10,400

Tools

Complete the fish section of the critterpedia
Recipe
Materials Needed
Obtained From

Golden net

10,400

Tools

Complete the bug section of the critterpedia
Recipe
Materials Needed
Obtained From

Golden shovel

10,675

Tools

Assist Gulliver 30 times
Recipe
Materials Needed
Obtained From

Golden axe

10,655

Tools

Break axes 100 times
Recipe
Materials Needed
Obtained From

Golden slingshot

10,300

Tools

Shoot down 300 balloons; Recipe will be in a golden balloon sometime after
Recipe
Materials Needed
Obtained From

Golden watering can

10,675

Tools

Attain a 5-star town rating