This is our guide on Fruit in Animal Crossing New Horizons, in this guide you will learn where to find different kinds of fruit and what you can do with them.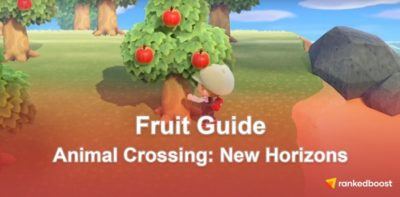 What Kinds Of Fruit Can You Get
When you first start up the game and create an Island, you will start with one type of fruit; this is your Native Fruit. You can start with Peaches, Pears, Apples, Oranges, and Cherries.
You can change the type of fruit you start off with by resetting your game. (Closing the game and starting it again)
Tip: You will get more bells by selling fruit not native to your island.
What can be done with fruit
Sell it for Bells
Give them to your villagers
Trade with friends (Other players)
Plant them (When you plant fruit it will grow into a tree and you can harvest them for more fruit)
Use them as crafting materials
Eat them to gain stamina (Stamina allows you to dig up whole trees and break rocks)
How to get different fruit
You can obtain different types of fruit by the following methods:
List of all the types of Fruit found in ACNH:
Apples
Cherries
Coconuts
Peaches
Pears
Oranges
How much you can sell each Fruit Type for:
Native Fruit – Found on your Island (100 Bells)
Coconuts – Found near beaches (250 Bells)
Non-Native Fruit – Found on other players Islands, or rarely on Mystery Island Tours (500 Bells)