This is all of the information we have on Flick in Animal Crossing New Horizons. Here you will learn who Flick is and what role he plays in the game. Flick is brand new to the series, first appearing in New Horizons and has an affinity for bugs. He is very passionate and is loved by a lot of fans, myself included.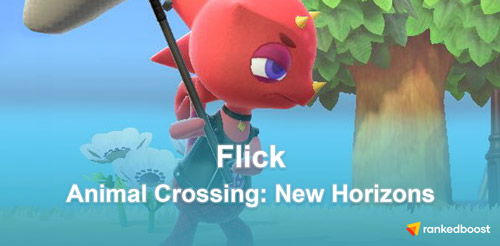 Who Is Flick?
Flick is a Chameleon who has an interest for bugs and randomly appears around your Island to collect specimens, during this time you can sell him your bugs, or commission an art piece from him.
How Long Does Flick Stay In Animal Crossing New Horizons?
Flick will stay on your Island for an entire 24 hours, starting from 5 AM to 5 AM, respectively. You should take this time to sell your pricey bugs for more bells than usual.
When selling him your Bugs, he will buy them at 1.5x the price they usually are. If you choose to commission a piece from him, you will need to give him 3 of the same kind of bug. He will then create a 3D model of that bug, which he will send you the next day, that you can display around your Island or home.
Flick also runs the Bug Off Events, and you will learn about the Bug Off from him and obtain prizes from him as well.