This is all the information we have on the Fishing Tourney in Animal Crossing New Horizons. Here you will learn, what is a Fishing Tourney, when does it start and end, and what are the Prizes. In past games, the Fishing Tourney was held by Chip. You obtained trophies depending on how large of fish you caught. This time around however, is based on how many you catch.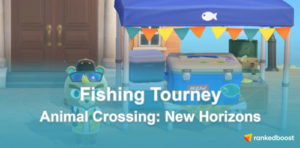 What Is A Fishing Tourney?
A Fishing Tourney is an event that happens during certain months of the year, where your main goal is to catch as many Fish as you can in 3 Minutes. C.J hosts this event, and you can enter this Tourney multiple times, as many times as you want. The first entry is free; after that, you need to pay 500 Bells each time to enter.
You gain 1 point for each Fish you catch; for every 3 Fish, you catch you get an additional 2 points. All of your Fish you find is placed inside the Cooler next to C.J, so do not worry about your inventory filling up.
It should also be noted a Fishing Tourney will not take place if you have not upgraded Resident Services into a Building.
Tip: The fastest way to get Fish for the Tourney is using Bait, you can make Bait by digging up Manila Clams on the Beach and using your Crafting Bench to make Bait, when the Tourney starts, use your Bait and catch the Fish that appear. (Only one Bait can be active at a time, so be sure you grab your Fish before you use more.)
Fishing Tourney Dates
Below is a list of the Dates when Fishing Tourneys begin, they are always held every 2nd Saturday of their respective months. Fishing Tourneys start at 9 AM and end at 6 PM. C.J, however, will stay around until 8 PM if you want to sell him Fish. (You will get a letter in the mail a week before the Tourney to let you know ahead of time.)
January 11th
April 11th
July 11th
October 10th
This list may be incomplete and will be updated as soon as more information is available.
Fishing Tourney Prizes and Rewards
Below is a list of the Prizes for the Fishing Tourney, you can obtain these Prizes by speaking to C.J, the Prizes you receive is random and cost 10 Points each. If you get at least 100 Points, you will be sent a Trophy in the mail the next day. There are three different Trophies you can obtain, depending on how many points you got.
| | |
| --- | --- |
| Fish Wand | |
| Fish Umbrella | |
| Fish Pochette | |
| Tackle Bag | |
| Fish Print Tee | |
| Fish Print | |
| Fish Drying Rack | |
| Fresh Cooler | |
| Fishing Rod Stand | |
| Anchor Statue | |
| Fish Doorplate | |
| Fish Rug | |
| Marine Pop Wall | |
---
| | |
| --- | --- |
| Bronze Fish Trophy | |
| Silver Fish Trophy | |
| Gold Fish Trophy | |
This List is incomplete and will be updated as soon as we can confirm more prizes.