This is all the information we have on Daisy Mae in Animal Crossing New Horizons. Here you will learn who Daisy Mae is, when she appears, and what role she plays. Daisy Mae is brand new to the series, making her first appearance in New Horizons, she is the Granddaughter of Joan from past games, she takes Joan's role in this game.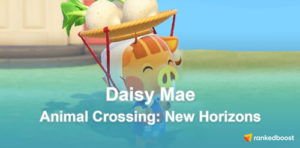 Who Is Daisy Mae?
Daisy Mae is a young Boar who will make her first appearance on your Island every Sunday morning (only after Nook's Cranny is built) to sell Turnips. She will stick around your Island from 5 AM to 12 PM.
Turnips In Animal Crossing New Horizons
Every Sunday morning, Daisy Mae will sell you Turnips; these Turnips can not be planted and are used for the in-game "Stalk Market." Essentially you will find Daisy Mae on a Sunday morning and buy her Turnips from her for as cheap as you can get them. From there, you speak to Timmy and Tommy on Monday and ask them the Turnip Prices. The prices change every Morning and Afternoon. Turnips will rot one week after you buy them (Next Sunday) and will become useless, so it is best to sell them before then, and its best to sell them for more than you bought them to get a profit.
How Do You Get The Best Deal For Your Turnips?
When Daisy Mae comes to your Island, my personal recommendation is to buy them below 100 Bells, 95 Bells is a steal honestly. Anything above 125 Bells is a little too expensive. As stated before, you want to sell your Turnips for more than you bought them for, and you want to sell them before they rot next Sunday. 200 Bells or more is a reasonable price, and sometimes you might not be so lucky after all the Stalk Market is a lot to do with Luck.
Time Skip
Time Skipping, or also known as Time Traveling, is a bad idea when having Turnips, it can cause them to Spoil, and worst case, it can reset your Prices for selling at Timmy and Tommy's.
Note: If you did not sell your Turnips or you Time Skipped, and they went bad, you can leave some outside or throw them away in a trash can. If you leave them outside, it can attract flies, so if you are having trouble finding one for your Museum, you should be set.