Welcome to our Animal Crossing New Horizons Crafting Materials Guide, here you will find a list of all of the materials you can farm and use to craft DIY Recipes. You will also find lots of helpful tips you can use to maximize your ability to cultivate these materials with more efficiency.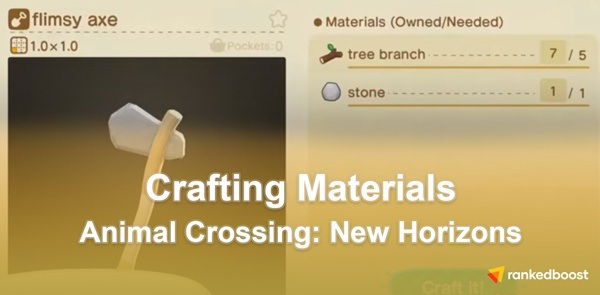 List of all crafting materials
Below is a list of all the materials used in DIY Crafting Recipes, you can Click/Tap the images to view information on how to farm this mats and the types of recipes you can craft with them.
How To Farm Crafting Materials in ACNH
Below is a list of useful tips for farming materials you can use for crafting in ACNH, for example, the Time Travel Method is a great way to stock up on items that require you to wait days ( Trees, Rocks, etc). You can stock up on many materials used in DIY Crafting, by visiting your best Friends Island to steal some of their Trees, Rocks, Fish and Fossils.
Wood
Hit a tree with a axe.

You can get three pieces of wood per tree per day.

Fruit trees will also drop wood and, at the same time, fruit.

Clump of Weeds
Pull out Weeds.

Weeds are all over the island.

Weeds can also be sold for Bells.

Tree Branch
Tree Branch can be found next to Trees.

Shaking Trees will also drop Tree Branches.

softwood
Random drop from hitting trees with a Axe.
hardwood
Random drop from hitting trees with a Axe.
Stone
Random drop from hitting Rocks with a Shovel or Axe.

Breaking Rocks is not recommended for getting stone. unless using time travel.

Iron Nugget
Iron Nugget is a random drop from hitting a Rock with a Shovel or Axe.

Recommended to use a Shovel as you already use your Axe to chop trees, and your items will break.

Eat Fruits before breaking rocks to gain a temporary strength boost eating many fruits at one time will store up to ten boosts max. Warning that if you shatter a rock before getting all items, they will be lost.

Dig two holes behind you to help with breaking rocks.

Use 2,000 Nook Miles ticket to take a mystery island tour.

Iron Nuggets are in presents that are drop by balloons.

Steal from Best Friend's Islands.

Use Time Travel Cheat.

Clay
Random drop from hitting Rocks.
Manila Clam
Manila Clam can be found on the beach where water spouts out of the ground use a Shovel to find the hiding Manila Clam.

Manila Clam allow you to catch bigger fish.

Sand Dollar
Sand Dollar can be found on the beach.

Sand Dollar is a pink looking clam.

Sand Dollar are a good way to make extra Bells as they can be found on the beach.

Boots
Boots can be fish.

Before you can use your boots that you have fished up, you need the recipe for Recycled Boots.

You will need to boots to make a pair to ware.

Star Fragments
To obtain Star Fragments you will need to keep a eye on the daily morning announcements. So you know when the Meteor Shower will appear.

You can get more than one Star Fragment but pressing A repeatedly.

The next day after the Meteor Shower check the beach for the Star Fragments.

Bamboo Pieces
Bamboo Pieces can be found on a random Mystery Island.

Fully grown Bamboo will produce Bamboo Shoot, which is buried next to them in the ground.

You can get Bamboo Shoots for buying a lot of turnips from Daisy Mae.

Bamboo Shoots can be replanted to make more Bamboo.

Gold Nugget

Gold Nugget is a rare drop from hitting Rocks
Rusted part
In order to get a Rusted part you need to rescue Gulliver and you will also need 5 communicator parts for him to leave the island on the next day check your Recycle Box and you should see A Rusted part.