This is all the information we have on the character C.J in Animal Crossing New Horizons. Here you will learn, who C.J is, and what role he plays in the game. C.J is brand new to the series debuting in New Horizons, he is passionate about Fish and is technically an Influencer or "Seasports Streamer" of sorts.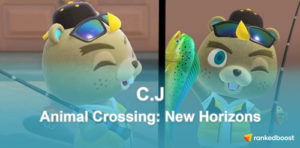 Who Is C.J?
C.J is a Beaver who sometimes visits your Island, and he will appear for two different reasons depending on why he shows up. He might appear because he's scoping out people who can complete his "Seasports Challenges," or he will appear for the Fishing Tourneys, which happen at different points of the year.
What Are Seasports Challenges ACNH
These challenges range from "catching 5 fish in a row" to "catch 3 large fish in a row," and when completed, he will then offer to buy Fish that you provide him. Just like Flick, who will purchase bugs from you, he will buy Fish from you at 1.5x the price.
Commissions
When speaking to C.J, he might mention something about Commissions, and if you give him 3 of the same kind of Fish, he will have his business partner create a model of that Fish for you. That partner he is speaking of is Flick, who offers the same service but for Bugs.
How Long Does C.J Stay In Animal Crossing New Horizons
C.J will randomly appear on your Island to scope out challengers to complete his "Challenges" he will stay on your Island for 24 hours, 5 am to 5 am, respectively. He also holds the Fishing Tourney that can happen during certain months.