This is all of the information we have on the Bug-Off event in Animal Crossing New Horizons. Bug-Offs in past games had you catching the highest quality bugs you could, and bringing them back to the event holder for him to study, and "not" eat them when you are not looking.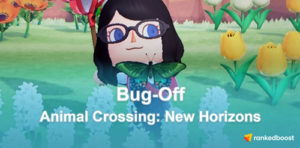 What is a Bug Off?
An event that's held throughout the Summer months, after speaking to Flick, you will be challenged to catch as many bugs as you can in a Three Minute Time frame. Each bug is worth one point, but you will earn an extra two points every three insects you catch.
Bug-Off Event Dates
Below is a list of dates when Bug-Offs occur. These events begin at 9 AM and end at 6 PM. The first entry of the Bug-Off is free, and after that, the entry fee becomes 500 Bells.
Northern Hemisphere
27th June
25th July
22nd August
26th September
---
Southern Hemisphere
21st November
19th December
16th January
20th February
Bug-Off Event Prizes
The points you earn during the Event can be exchanged for some pretty nifty items; each item is worth 10 points each, however, what you receive is random every time.
| | |
| --- | --- |
| Toy Centipede | |
| Toy Cockroach | |
| Ladybug Umbrella | |
| Ladybug Rug | |
| Bug Cage | |
| Bug Wand | |
| Bug Aloha Shirt | |
| Artisanal Bug Cage | |
| Spider Doorplate | |
| Termite Mound | |
| Butterfly Wall | |
This list is incomplete and will be updated as soon as we confirm more prizes.